Why Hillary Clinton Can't Quit Sid Blumenthal
Whatever his faults, he saw her as a political paragon, as his memoir, "The Clinton Wars," shows.
by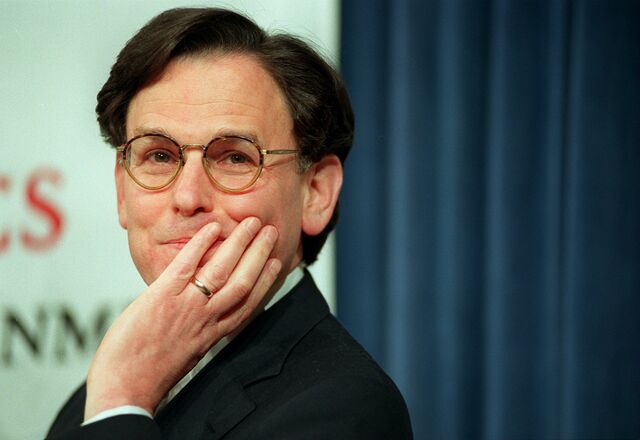 Among journalists, Sid Blumenthal is a cautionary tale, bringing home starkly the ethical dangers of falling too hard for a subject. Pushed out of the New Yorker after carrying the Clintons' water during Bill's first term, he crossed the line and joined the administration, becoming especially close to Hillary Clinton while earning a reputation for his take-no-prisoners tactics. In 2008, he was bestowed the nickname "Grassy Knoll" for being associated with some of the ugliest strains of Hillary Clinton's campaign. Blumenthal's 2003 book, The Clinton Wars, is definitely a warrior's memoir—and it saves its most ringing encomiums for the first lady. No wonder Hillary Clinton has kept him around all these years.
At first sight
"In the middle of the free-for-all, a woman with shoulder-length brown hair and thick glasses stood up. It was the thirty-nine-year-old Hillary Rodham Clinton. She spoke deliberately and pointedly. Her thoughts were framed with great logic. She was emphatic but composed. She referred to what her husband had said and provided steel bracing for his expansive talk. Hillary had the effect of settling in Bill's favor whatever matter was at issue."
The perfect political spouse
"Hillary briefly reviewed Clinton's career as governor of Arkansas, when he had tried to do too much in his first term and lost his second election. But he had learned and gone on in the next election to win it all back, making change after change. It was almost as though she were prophesying a cycle of return. But she was making a point beyond that about Clinton's perseverance. She and Bill knew how to struggle through turmoil."
Not a cookie baker
"Hillary Rodham Clinton was the first First Lady who had the essential credentials to serve as a cabinet-level official. The proper comparison is not to any previous first lady but to Robert F. Kennedy, President Kennedy's brother, who was named as JFK's attorney general."
Role reversal
"On election night, Hillary Clinton telephoned me from Little Rock as she and the President prepared to go before the crowd there to acknowledge his victory. She told me that with his triumph she believed the pseudoscandals would recede and the business of governing would be conducted on a more rational basis. We had reversed roles. Usually I was the optimist and she the pessimist. But swept up in the emotion of the evening, she thought, at least momentarily, that reason would now prevail. 'It's going to be all right,' she said."
Seeing her best self
"In almost every one of the tens of thousands of Whitewater articles published in 1994-98, Hillary was depicted as emerging from a primeval Arkansas swamp of corruption. I suggested to her that she reclaim her identity as a Chicagoan, and after the 1994 election she began traveling to Chicago. She had kept up with her old friends, and now she saw them more often. She went to her old high school. She developed a relationship with Mayor Richard M. Daley and his wife, Maggie. If her accent was flat, her manner direct, her ambition clear, it was because of where she was from: striving middle-class Chicago. It was right politically and important psychologically for her to remind herself and others of this background."
A sympathetic ear
"I called Hillary. We dispensed with the extraordinarily difficult personal problem at the start. As her friend, I wanted to respect her privacy. I said that whatever 'issues' anyone had, and hers was worse than anyone's, we had to think about the politics. That was her reasoning as well. She said that the President would be 'embarrassed,' but that was for him to deal with. And that was all she would say about it. Even in a private conversation with a friend, she maintained her dignity."
The approachable Hillary
"Hillary had an instinctively greater grasp of the state than most other New York politicians, who tended, like most politicians, to be parochial. She actually listened to people, and she learned about more than their local problems. She found that upstate voters felt neglected and ignored by the Republicans ... The closer she got to the ground, the more attuned she became to its politics. And her constant presence sent a signal that as a senator she would be there for these voters. She convinced people in these long 'listening' sessions that she was different from her stereotype: not haughty, cold, and aloof, but approachable."
Before it's here, it's on the Bloomberg Terminal.
LEARN MORE