Clinton Family Speeches Netted as Much as $26 Million for Foundation
Bill, Hillary and Chelsea Clinton gave nearly 100 paid speeches over the past dozen years on behalf of the family foundation.
by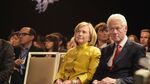 The Clinton Foundation on Thursday disclosed nearly 100 instances in which it received payments for speeches delivered by Bill, Hillary and Chelsea Clinton over the past 13 years, including a number from foreign entities.
In all, the 97 engagements brought between $12 million and $26.4 million into the foundation since 2002.  A precise number is impossible to compute because the foundation provided the information in broad categories of value, rather than specific dollar amounts. But three speaking fees were listed in the $500,000 to $1 million range.  None had previously been disclosed by the organization or by the Clintons. The foundation had previously accounted for the fees as revenues but had not classified them as donations.
The release, which came Thursday evening after close of business on the East Coast,  follows the Friday filing of the Clintons' latest financial disclosures, which showed the former first couple earning at least $30 million since the start of 2014 and having a net worth of between $11 million and $53 million—not including their two multimillion dollar homes and other personal property. Bill Clinton earned more than $104 million from paid speeches between 2001 and 2012. The fees to the Clinton Foundation are in addition to those the former first couple disclosed last week.
The latest fee disclosures are likely to increase questions about the web of influence surrounding the Clintons as former Secretary of State Hillary Clinton runs for president.  
The list released Thursday is composed primarily of fees collected by former President Bill Clinton, including the three speeches listed in the top range of value. DMC Communications Ltd. on behalf of All Ireland Scholarships, a program providing financial support to undergraduate students in Ireland; Hanwha Group GmbH, a South Korean conglomerate; and Leaders and Company Ltd., which publishes Nigeria's ThisDay newspaper all paid the foundation $500,000 or more to have the former president deliver a speech. 
The biggest fees brought in by Hillary Clinton for the foundation were between $250,001 and $500,000 from eight entities, including Citibank, N.A.; Fundacion Telmex, one of billionaire Carlos Slim's foundations; Goldman Sachs Group Inc.; and the University of California-Los Angeles.
Chelsea Clinton's biggest paydays on behalf of the foundation came from speeches to three Jewish groups and at the University of Missouri-Kansas City, for which she was paid between $50,001 and $100,000 apiece. One of Bill Clinton's fees in that category came from the tobacco company Altria Group Inc.
Craig Minassian, the foundation's chief communications officer, said the list was "just another example of how our disclosure policies go above and beyond what's required of charities."
But the disclosures came only after outsiders pointed out discrepancies in the foundation's accounting. Hillary Clinton recently had to acknowledge that her husband's foundation did not disclose all of its contributions from foreign donors, as it had agreed to do when she joined President Barack Obama's administration.
In addition to Citibank and Goldman, several more financial institutions are listed, including Carlyle Group LP; JPMorgan Chase & Co.; Bank of America Corp.; and Credit Suisse Corp. AG. On the campaign trail, Hillary Clinton has spoken about wanting to be tough on Wall Street and to find new ways to bolster community banks.
The disclosures include 27 speeches delivered by all three Clintons at universities and professional schools, including several at public institutions, which have stirred up controversy as students challenge the use of limited resources on six-figure fees. The foundation received a $300,000 check from UCLA for Hillary Clinton's 2014 speech there, and $250,000 for a speech Bill Clinton delivered in 2012, according to a Freedom of Information Act request filed last year by the Washington Post. Students at the University of Nevada, Las Vegas, demanded that the former secretary of state decline the $225,000 fee she was to be paid for a 2014 speech there. Instead, the fee, paid for by the university's foundation, went to the Clinton Foundation. The Clintons' fees for dozens of other speeches to nonprofit groups also went to their foundation, the disclosures show.
Of particular interest, given Hillary Clinton's role at the State Department, are the paid speeches that she and her husband gave to foreign groups—of which nearly two dozen were disclosed Thursday—especially the ones that Bill Clinton delivered while his wife was America's top diplomat.
The Clinton Foundation did not disclose the dates of the speaking engagements, but at least a few came as Hillary Clinton served as secretary of state, including the former president's speech to All Ireland Scholarships, in November 2012. Another one, to Thailand's state-owned energy company, came in 2010, according to the company's annual report.
At least five speeches were paid for by Chinese entities, including e-commerce company Alibaba. As president, Bill Clinton actively pursued a policy of engagement with China over the objections of prominent members of his own party, including House Democratic Leader Nancy Pelosi, who objected to the country's human rights abuses. The Clinton Foundation has employed Hui Ng, the niece of Chinese President Xi Jinping, and her British-born husband, Daniel Foa.
There were also speaking fes from entities in Qatar, Saudi Arabia, Kenya, Germany, India, Brazil and Canada. Some of these organizations have interests in the United States.
Bill Clinton collected a fee between $250,000-$500,000 from the Thai energy ministry. Thailand's state-controlled energy company, PTT Pcl, has a chemical unit that's building an ethylene plant in Ohio, and the PTT group has said it is interested in buying smaller U.S. energy companies that might be up for grabs because of the plunge in oil prices. 
One entity that paid Bill Clinton at least $500,001, Hanwha, has previously been disclosed as a foundation donor. Its chairman, Kim Seung Youn, has  a checkered history, including having served jail time for embezzlement and assault. One of the conglomerate's largest subsidiaries, Hanwha Q Cells GmbH, is a major solar panel maker that has lobbied the U.S. Congress on trade issues.
Bill Clinton spoke at ThisDay's 2013 Awards for Excellence ceremony and appeared alongside Olusegun Obasanjo, the former president of Nigeria. Publisher Nduka Obaigbena is close to leaders of the ruling People's Democratic Party in Nigeria, which includes President Goodluck Jonathan. Hillary Clinton met with Jonathan in 2012 and praised his efforts to crack down on corruption.
—James Nash in Los Angeles, Stuart Biggs in Seoul, Brendan Scott in Hong Kong and Tony Jordan and Chris Blake in Bangkok contributed to this report.
Before it's here, it's on the Bloomberg Terminal.
LEARN MORE