Americans Vastly Overestimate Size of Gay and Lesbian Population
Poll shows Americans think 25 percent of the population are lesbians or gay men. The actual figure: less than 4 percent.
by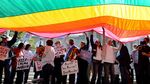 Same-sex marriage is one of the fastest-moving social issues in U.S. history, having become legal in state after state as Americans cheer it in ever-growing numbers. But one thing is slightly off-kilter: Americans seem to have absolutely no idea just how many of their fellow citizens are lesbians or gay men.
In fact, they think that 23 percent of Americans, or almost one in four, are are gays or lesbians, a Gallup survey released Thursday revealed. That's way off: The polling organization most recently found that less than 4 percent self-identify as lesbian, gay, bisexual or transgender.
A third of people surveyed believed that lesbians and gays made up more than 25 percent of the population. Just 9 percent of those in the survey correctly stated that they thought the group made up less than 5 percent of the population.
It's unclear why people think there are six times as many lesbians and gays as there actually are.
"Part of the explanation for the inaccurate estimates of the gay and lesbian population rests with Americans' general unfamiliarity with numbers and demography," Gallup ventured, noting that people also overestimate the size of the African-American and Hispanic populations in the U.S., although usually only by a factor of two. "The overestimation [of the size of the gay and lesbian population] may also reflect prominent media portrayals of gay characters on television and in movies, even as far back as 2002, and perhaps the high visibility of activists who have pushed gay causes, particularly legalizing same-sex marriage."
Several gay, lesbian, bisexual, and even transgender characters have become prominent in recent years on TV shows such as "Modern Family," "Scandal," "Degrassi," and "Glee," as well as in movies including "Brokeback Mountain" and the Academy Award-winning biopic "The Imitation Game."
Those who oppose same-sex marriage give slightly lower—but still way-too-high—estimates of the lesbian and gay population than those who support it do, but the difference between the two groups' estimates was within the margin of error of 4 percent.
In a separate Gallup poll released Tuesday, the organization found a "record-high" 60 percent of Americans favoring the legalization of same-sex marriage.
CORRECTION: An earlier version of  this post stated that Gallup had asked about the size of the lesbian, gay, bisexual, and transgender population. Gallup only asked about lesbians and gays.
Before it's here, it's on the Bloomberg Terminal.
LEARN MORE