Senators Craft Backup Plans on NSA Spy Programs as Vote Unclear
Chris Strohm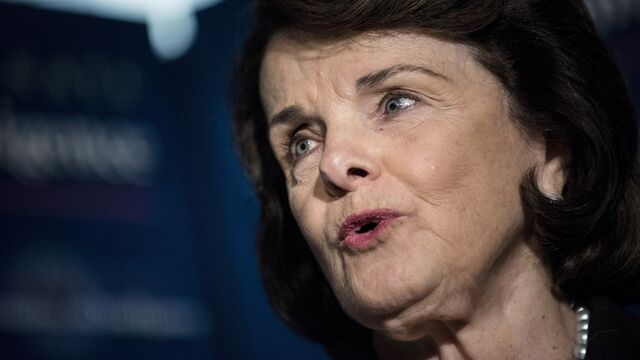 Senators rushed to develop fallback plans Thursday in case legislation curbing some U.S. spy programs fails to get enough votes and raised the possibility that anti-terror programs would expire June 1.
The Senate may vote as soon as Saturday on a House-passed bill that would prohibit the National Security Agency from collecting bulk records on Americans while extending three expiring provisions of the USA Patriot Act.
Senator Dianne Feinstein of California, the top Democrat on the intelligence committee, told reporters she was working on backup legislation should the chamber's vote on the House bill fail. Feinstein said, however, she supports the bill, which is called the USA Freedom Act.
"Whether the votes are there I don't know and what would happen if it fails I don't know," Feinstein said Thursday. "If it doesn't pass, that's another problem."
With no final resolution in sight, Republicans who took majority control of the chamber in January were facing their first test on being able to resolve a dispute over national security legislation. The spy programs were first disclosed by former government contractor Edward Snowden in June 2013.
Senator Richard Burr, a North Carolina Republican and chairman of the intelligence committee, was working on a separate fallback plan, Feinstein said. She said the two weren't in agreement. Burr told reporters that the House bill doesn't have enough votes to pass in the Senate and that the White House invited lawmakers to the Situation Room for threat briefings.
Lacking Votes
"I don't think anybody should be rooting for this to all go away," Burr said. "Clearly with the hard press that's on between the administration and taking people to the White House Situation Room, they don't have the votes right now for the USA Freedom Act."
Without a final deal, Section 215 of the Patriot Act will expire at 12:01 a.m. on June 1. The government has used the authority to collect records from companies in support of counterterrorism investigations, including details about phone calls. The government also would lose its authority to use roving wiretaps and to search for so-called lone wolf terrorists.
Senate Majority Leader Mitch McConnell, a Kentucky Republican, has set up procedural votes for Saturday on the House bill, H.R. 2048, as well as a two-month extension of the expiring provisions, S. 1357. The bills need 60 votes to advance.
Two-Month Extension
Burr said he hopes the two-month extension would succeed. When asked what kind of a backup plan he was developing, Burr said, "Wait until Saturday." He declined further comment.
Feinstein said her backup bill would end bulk collection but mandate that telecommunications companies retain phone records for two years. Such a mandate is opposed by many technology and Internet companies.
Senators also began downplaying the implications of the three Patriot Act provisions expiring for a short time.
"I don't think it's problematic for a day or two or a short period of time," Feinstein said.
Senator Richard Blumenthal, a Connecticut Democrat, said U.S. intelligence operations were going to continue no matter what the outcome of the Senate vote.
"I don't think the intelligence community comes to a screeching halt," he told reporters. "I think we make use of the powers and capabilities that we have that are fully sanctioned right now under the law. Even without the powers under this act, as necessary as they are, our country will be protected."
Before it's here, it's on the Bloomberg Terminal.
LEARN MORE