No. 4 House Democrat Says Obama Doesn't Have Trade Votes
Kathleen Miller and Heidi Przybyla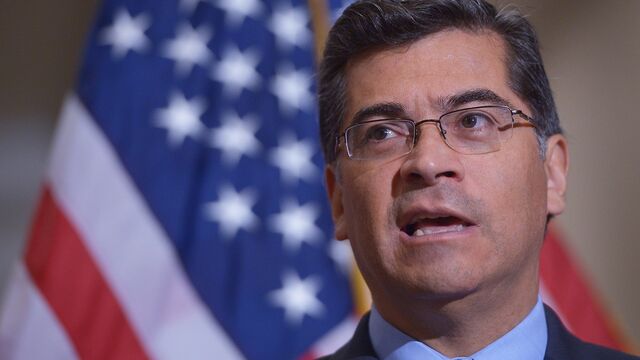 President Barack Obama doesn't have the votes at this point to win U.S. House passage of legislation that would expedite approval of trade accords, a Democratic leader in the chamber said.
Obama has sought the trade-promotion authority legislation, largely backed by Republicans, to help him close a 12-nation deal called the Trans-Pacific Partnership and submit it to Congress for expedited passage without amendments.
"Does the president have the votes? I'd say at this stage he does not," Representative Xavier Becerra of California, the fourth-ranking House Democrat, said Thursday at a meeting with Bloomberg reporters and editors. "I think it's more a matter of: Can Republicans gather Republican votes?"
The Senate advanced the trade-authority legislation Thursday, over significant opposition from the chamber's most powerful Democrats. The 62-38 procedural vote, with 60 required, would allow a vote on final passage to occur as late as Saturday, although senators may agree to speed up the schedule. The measure's fate in the House is uncertain.
Becerra, who opposes the bill, said any fast-track trade legislation should include measures intended to discourage other countries from manipulating the value of their currencies for competitive advantage.
"If the will of the House were allowed to take us to a final destination on trade, we would have currency manipulation provisions in the trade bill," Becerra said.
Lew Warning
Treasury Secretary Jacob J. Lew this week said he would recommend that Obama veto the trade bill if it includes a proposed amendment aimed at preventing currency manipulation.
"Our trading partners have made it clear that they will not join a trade agreement that includes enforceable currency provisions," Lew said in a Tuesday letter to Senate leaders.
Becerra said he doesn't believe Obama would veto the bill because of the currency language.
"The secretary of the Treasury said he would recommend the president consider vetoing it," Becerra said. "Would he veto it? I don't think so."
Becerra said he is still weighing joining the race for the U.S. Senate seat being vacated by retiring Democrat Barbara Boxer.
California Attorney General Kamala Harris and U.S. Representative Loretta Sanchez are also seeking the Democratic Party's nomination to succeed Boxer.
'Still Considering'
"I'm still considering it," Becerra said, adding that he would decide in the next month or two. "It's clear that the public is still open to a robust campaign, and I hope that's what we have."
"There's a hunger to make sure that we get someone who can hit the ground running and take on the big challenges for our state," he said.
Becerra is a former chairman of the Congressional Hispanic Caucus and has previously sponsored legislation to overhaul the U.S. immigration system.
He said a comprehensive House immigration bill "is coming."
"Not as soon as I'd like but it's coming," he said.
Before it's here, it's on the Bloomberg Terminal.
LEARN MORE