Jeb Bush Criticizes Fiscal Habits of His Brother's Administration
It's the first criticism Bush has made of the family legacy since signaling his interest in the Republican presidential nomination.
by and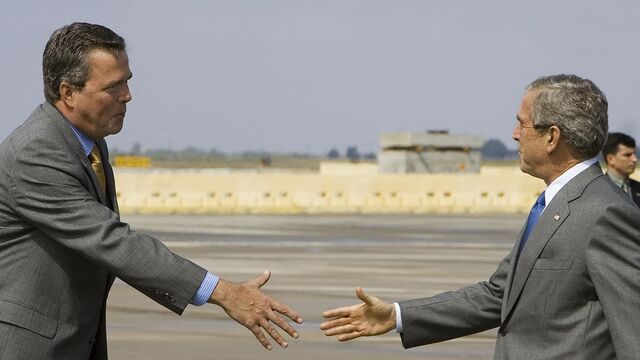 A day after promising he wouldn't avoid questions about his family by going into "witness protection," probable Republican presidential candidate Jeb Bush offered a most significant contrast with his brother on Thursday, telling a group of New Hampshire business officials that he wished former President George W. Bush had ``brought more fiscal discipline'' to Washington.
Asked during a breakfast meeting where he'd draw a bright line between him and his brother, Bush suggested that the former president was too reluctant to use his veto stamp.
"Are there differences? Sure," Bush told a group of local chamber of commerce members and state political leaders. "In Washington during my brother's time, Republicans spent too much money. I think he could have used the veto power to bring budget discipline to Washington, D.C."
For the past week, Bush has been struggling to answer questions involving his family, and in particular his brother's presidency. Jeb Bush's criticism of federal spending under his brother, when massive tax cuts contributed to average annual budget deficits of $250.7 billion, is in line with his attempt to shift his party's economic message to one of closing the opportunity gap.
Criticism of spending under the 43rd president, however, doesn't exactly tread new ground for the party. Bush, 62, acknowledged that on Thursday and added a criticism of spending under President Barack Obama, saying the spending under his brother "seems kind of quaint right now, given the fact that after he left budget deficits and spending just went up astronomically."
"But having constraints on spending across the board during his time would have been a good thing," Bush said. "There are other things I'm sure. I don't feel compelled to go out of my way to criticize Republican presidents. Just call me a team player here."
In a radio interview after the meeting, Bush said he knows he has introduce himself to voters, and explain why he wants to be president, beyond extending the family legacy.
"That's a loser," Bush said about running solely on his last name. "I totally get that."
Before it's here, it's on the Bloomberg Terminal.
LEARN MORE