Rand Paul Protests Spy Measure in Hours-Long Senate Speech
Heidi Przybyla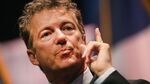 U.S. Senator Rand Paul held the chamber's floor for more than 10 hours to protest legislation extending much of the National Security Agency's spying program.
Paul, who is seeking the 2016 Republican presidential nomination, was attempting on Wednesday to draw attention to the bill, which is expected to get a Senate vote this week.
"There needs to be a thorough and complete debate about whether or not we should allow our government to collect all of our phone records all of the time," said Paul, of Kentucky.
Paul sent an e-mail to his donor list pledging to "filibuster" until he got votes on amendments that would end bulk data collection and revise the national security letter process. "I will not rest," Paul wrote in the fundraising e-mail. "I will not back down. I will not yield one inch in this fight so long as my legs can stand."
Paul told supporters in Philadelphia earlier this week that while he lacks the votes "inside the Beltway" to stop the bill to extend government surveillance powers, he thinks he has them outside Washington.
Paul's speech was largely symbolic because the Senate hasn't yet taken up the NSA bill.
The Justice Department warned lawmakers Wednesday that failure to act on the law quickly will disrupt intelligence gathering. Unless Congress renews the provisions of the existing law or enacts a modified version, the NSA will begin "taking steps to wind down" bulk collection of phone-call data, the department said.
Restarting Program
"In the event of a lapse in authority and subsequent reauthorization, there will necessarily be some time needed to restart the program," the department said in a memo circulated to members of Congress.
Don Stewart, a spokesman for Majority Leader Mitch McConnell of Kentucky, said Wednesday it was too soon to say what, if any, amendments would be allowed to legislation extending the NSA program. McConnell opposes a House-passed bill and has given no indication he would allow senators to try to amend it.
McConnell doesn't think the House bill has 60 votes to advance in the Senate and, therefore, senators may be forced to accept a short-term extension of possibly two months to work out a final deal.
Paul started his speech at 1:18 p.m. Washington time Wednesday and spoke for almost two-and-a-half hours before yielding to a question -- without relinquishing control of the floor. As the night wore on, he answered more questions from fellow lawmakers and eventually gave up speaking just before midnight.
Building Backdoors
Paul outlined six amendments that he and Senator Ron Wyden, an Oregon Democrat, want to offer when the Senate considers the surveillance measure. One amendment would prohibit the government from requiring companies to build backdoors into their products to allow law enforcement agencies to conduct surveillance.
The Justice Department's warning that it would have to begin shutting down the phone records collection program on Friday might not scare many senators. Two independent panels have concluded that the program hasn't helped stop terrorist plots.
Snowden Disclosures
The metadata program "was not essential to preventing attacks" and information needed to disrupt terrorist plots "could readily have been obtained in a timely manner using conventional" court orders, the Review Group on Intelligence and Communications Technology said in a December 2013 report.
The group was created by President Barack Obama in response to disclosures by former U.S. contractor Edward Snowden, and included Michael Morell, a former deputy CIA director, and Richard Clarke, a former U.S. cybersecurity adviser.
The House-passed bill, H.R. 2048, would prohibit the NSA from collecting bulk records while renewing three U.S. spy programs set to expire in two weeks. It is touted by supporters as representing one of the most significant revisions of national security laws in decades.
Privacy advocates question whether it will significantly curtail NSA spying powers revealed in 2013 by Snowden.
Tracking Medications
Paul said on the Senate floor that by analyzing phone records, the government can determine religious affiliation, what medications people are taking and what diseases they have.
"The government shouldn't have the ability to get that information unless they have suspicion, unless they have probable cause that you've committed a crime," he said.
The Justice Department said that unless Congress passes an extension, no new foreign intelligence investigation using the roving wiretap, lone-wolf surveillance authority, or the phone meta-data collection could be started once the authority lapses after midnight, May 31.
Federal Bureau of Investigation Director James Comey said the ability to access a federal court that vets surveillance requests by intelligence agencies is an important tool. He expressed concern that the debate over phone metadata was overshadowing other uses.
"We use it fewer than 200 times a year, but when we use it, it matters tremendously," Comey said in a speech Wednesday in Washington, referring to the FBI's requests to Foreign Intelligence Surveillance Court judges for access to records and documents. "If we lose that authority," he said, "my work will be severely impacted."
Program Lapse
The surveillance court said the government must file any applications to renew authorities expiring June 1 by this Friday.
"After May 22, 2015, it will become increasingly difficult for the government to avoid a lapse in the current NSA program of at least some duration," said the Justice Department memo, obtained by Bloomberg. It reinforces warnings from the White House.
"If those authorities are not authorized, it does pose a risk to our national security," White House press secretary Josh Earnest said Tuesday.
Before it's here, it's on the Bloomberg Terminal.
LEARN MORE