Jeb Bush Pushes Back On Iraq
He insists "the ship is stable" after a rocky week.
by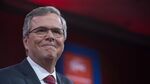 A week after stumbling through a question about the 2003 invasion of Iraq led by his brother, former President George W. Bush, probable Republican presidential candidate Jeb Bush sought to re-direct the attention to White House's current resident.
"The focus ought to be on, knowing what we know now, Mr. President, should you have kept 10,000 troops in Iraq?" Bush said Wednesday at a business round-table in Portsmouth, New Hampshire. "ISIS didn't exist when my brother was president. Al-Qaeda in Iraq was wiped out when my brother was president. There were mistakes made in Iraq for sure, but the surge created a fragile but stable Iraq that the president could have built on." President Barack Obama's decision to withdraw troops from Iraq has come under some withering criticism in recent days following Islamic militants' capture of Ramadi, just 60 miles from Baghdad.
Bush's meeting with about 50 business officials, hosted by Republican activists Renee Plummer, is the first of four public events the former Florida governor has scheduled for Tuesday and Wednesday in New Hampshire. The state, which traditionally holds the nation's first presidential primary every four years, is seen a crucial for Bush's prospects to winning his party's nomination. A Bloomberg Politics poll this month showed him neck-and-neck with Wisconsin Governor Scott Walker and U.S. Senators Rand Paul and Marco Rubio.
Bush also acknowledged the rough few days last week that followed his fumbling of a question during a Fox News interview about whether he'd have authorized the invasion of Iraq knowing the intelligence was faulty. "I actually gave a pretty good answer to the question—it was just not the question she asked," he said.
"Things got a little bumpy but all is well now," Bush said. "The ship is stable."
Speaking to reporters after the event, Bush suggested he'd continue to defend his family's legacy.
"I'm not going to be in the witness protection program," Bush said. "I'm a Bush and I'm proud of it. I love my mom and I love my dad, love my brother. What am I supposed to say?"
(Michael C. Bender contributed to this report.)
Before it's here, it's on the Bloomberg Terminal.
LEARN MORE