Is the U.S. Military Ready to Accommodate Breastfeeding Soldiers?
Representative Niki Tsongas has added a provision to a defense bill that would establish a comprehensive new policy that would aid nursing mothers.
by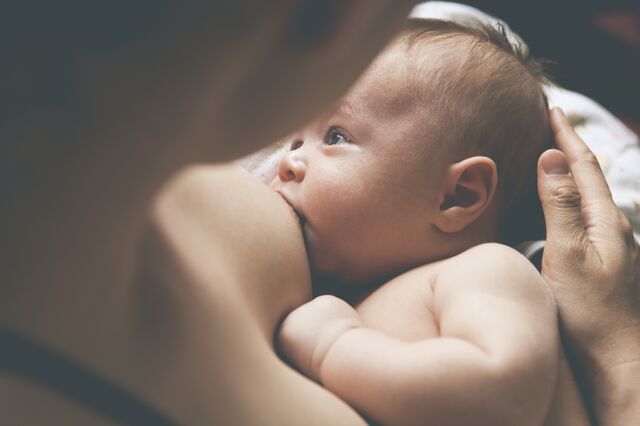 The Affordable Care Act requires American employers to provide a "reasonable" break time for nursing mothers, and a private place for mothers to pump (or "express," as the Department of Labor puts it) their breast milk. But in the military workplace, the laws are different.
Representative Niki Tsongas, Democrat of Massachusetts and a member of the Armed Services Committee, says she has heard "too many stories from servicewoman who had recently had children, who were committed to breastfeeding their babies, and were confronting a lot of challenges in doing that at work." Supervisors and commanders had been handing down different rules. One Air Force base in Idaho saw a dustup last month, when the 366th Fighter Wing restricted breastfeeding in public. Some servicewomen, Tsongas said, had to pump in the bathroom, or others in their cars. Tsongas recently sponsored a provision in a defense bill that would require the Army to establish a comprehensive policy toward breastfeeding, one that includes work breaks and designated private, clean rooms with electrical outlets. Her amendment to the bill, H.R. 1735, National Defense Authorization Act for Fiscal Year 2016, specifies, "Restrooms should not be considered an appropriate location."
Tsongas believes that the country is not doing enough to encourage and support women in the military. "All the other services had a policy," she said in a phone interview. (The Air Force, the Marine Corps and Navy, and the Coast Guard have differing regulations about running water and the timing of pumping breaks, but all require private rooms.) Tsongas said, "We felt it was important that the Army develop a policy considering the rising numbers of women serving in the Army."
Tsongas came onto the Armed Services Committee as a newly elected member in 2007. "I sought that committee out," she said, in great part "because I thought it needed more diversity."
"There are many ways in which the services are not recognizing the ever-growing diversity of their members," she said. First and foremost, she added, "we've seen it in the shortcoming in addressing egregious sexual assault." But the U.S. military is geared to males in less obvious ways, too. "Women were still being issued men's combat boots," Tsongas said, adding that she's taken an interest in making body armor and prosthetics for those who've lost their limbs better suited to women (another amendment she successfully introduced to the bill would require action from the Pentagon on the medical needs of female amputees).
"I've just seen too many instances in which there's an element of neglect," she said. She counts the matter of breastfeeding among these.
Tsongas's provision, added during committee consideration, was part of a series of additions to the legislation made to support women in the armed forces. Representatives Loretta Sanchez and Jackie Speier, both Democrats of California, made additions that would require access for infertility treatment, reproductive counseling, and contraception during the duration of military deployment. Representative Susan Davis, another California Democrat, sponsored a provision to boost the presence and retention of women in Afghanistan's Defense and Interior ministries, and in its national security forces. Martha McSally, a Republican of Arizona and a retired Air Force colonel, sponsored a provision looking for a review of the policy that requires women stationed abroad to wear head covers. McSally, New York Republican Elise Stefani, and Florida Democrat Gwen Graham are the three freshman women who joined the House's Armed Service Committee this year. Now there are twelve female members of 63.
The bill has passed in the House of Representatives, and will now head to the Senate.
Tsongas said it was too soon to talk about precise details—the cost, the number of rooms—and the Congressional Budget Office confirmed that their cost estimate does not include Tsongas's provision (nor the others). "The reality," Tsongas granted, "is that cost is always a factor. But there's also a cost in losing women who've undergone training, who choose to leave the armed forces because there isn't a policy in place that is friendly to the needs of their lives."
"We've given the services the discretion to come forward with a policy," she said. "You can't be the best Army in the world if you're not welcoming women."
Tsongas has frequently advocated on behalf of women in the armed forces. Rape and sexual assault in the military have been a point of concern of hers throughout her years in Congress, and she has helped pass legislation to improve the Pentagon's handling of rape and sexual abuse in the military. Tsongas frequently cites a meeting she had with a military nurse during her first year in Congress. The nurse, who had been deployed in Iraq and in Afghanistan, told Tsongas, "Ma'am, I am more afraid of my soldiers than I am of the enemy."
Tsongas has also visited Afghanistan six times—one Mother's Day she spent meeting with Afghan women training to be helicopter pilots—to ensure that Afghan women were involved in government rebuilding, and to protect their rights. She described U.S. investment in Afghan women as a a "genuine commitment," and said, "this also has to be a commitment to women who are serving our country. All too often our culture allows these women to be sexually assaulted by their own, betrayed by their own as they put their lives on the line."
An article published on Military.com on Tsongas's proposal elicited many snarky comments, to the tune of, "If we didn't have such weak sisters running this country we could be a great nation again, but oh no we have to worry about breastfeeding in the military. The country is falling apart, but let's talk breastfeeding. "
Robyn Roche-Paull, author of the book Breastfeeding in Combat Boots: A Survival Guide to Successful Breastfeeding While Serving in the Military and founder of a website with the same name, shared the piece on the site's Facebook page, with a warning, "Unless you want to get your blood pressure up, don't read the comments." And yet, some did. 
One woman, Olga Vandergriff, added to Roche Paull's chain. "I felt guilty just putting on maternity uniform because males immediately assumed that I wasn't good at my job etc just because I was carrying a baby," she wrote. "So males can start a family no problems, but I cant? Ugh."
Another comment from an account held by Ross N SteviAnn Buckingham added more depth. "I'll never forget in 2012, while I was planning my first son, some civilian that had never been around military at all told me that military women shouldn't even be allowed to have a family/conceive a child because we wouldn't be around for them if we got deployed, that we wouldn't be there during the day when the baby cried and she went on and on. I was baffled by the way a mother could ever say that. You have the joy of a child in your arms/in your life but because I serve, I don't deserve to have a child because o may be gone for a small amount of their life... It was insane I still get annoyed thinking about it."
Or as a later commenter on the Military.com piece put it, "So, essentially what many of these comments are saying is that male Soldiers are allowed to have families, but female Soldiers are not."
—Greg Sullivan contributed reporting.
Before it's here, it's on the Bloomberg Terminal.
LEARN MORE