Hillary Clinton: 'Stand Firmly' With Unions
At an event hosted by the SEIU, the presidential candidate steers clear of the Trans-Pacific Partnership trade deal.
by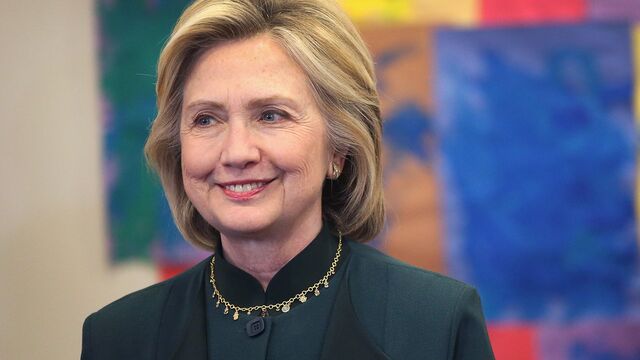 Hillary Clinton offered a strong endorsement Wednesday of the labor movement's guiding principles at a time when some in the movement have expressed a measure of impatience with her unwillingness to commit to a position on trade.
"We have to stand firmly together and united on behalf of your right to organize, your right to bargain collectively, your right to fight for the higher wages that reflect the value of your work," she said at the Centers for New Horizons's Effie O. Ellis Center in Chicago's Bronzeville neighborhood.
Clinton's comments came during a conversation with working parents, childcare workers and union officials hosted by the SEIU. The SEIU, like other major labor groups, is opposed to the Trans-Pacific Partnership, but the issue didn't come up during Clinton's opening remarks at the event, the only part that was open to the press. The remainder of the conversation was intended to be a private conversation for union members and the presidential candidate.
On Tuesday, Clinton said at a roundtable in Iowa that she has yet to decide whether she supports the TPP and needs more information before making a decision.
Clinton also spoke Wednesday about wanting to boost federal funding for childcare programs and said that congressional Republicans "should either get on board or get out of the way."
She added that she was ashamed that the United States does not have federal laws granting new parents time off from work.
"It's embarrassing. I traveled to 112 countries as your secretary of state. There are only nine countries that have no form of paid family leave and we're one of them," she said.
Clinton and her campaign have yet to say what minimum wage level she'd like to see—President Barack Obama has endorsed a $10.10 federal minimum wage while SEIU is pushing for $15 an hour—and did not do so on Wednesday. Aides say a number will, like other specific policy positions, come in the coming months as her campaign continues to unfurl.
The mention of wages was also intended as a nod to the SEIU's "Fight for $15" campaign to raise the minimum wage, and came as the union organized a protest at McDonald's headquarters in Oak Brook, Ill. Police estimated that more than 2,500 people gathered to picket ahead of the fast food company's annual shareholders meeting on Thursday.
On Wednesday, the Los Angeles City Council's vote Tuesday to raise the minimum wage there to $15 an hour by 2020. Voters in Chicago approved a similar measure last year, which will boost  the rate to $10 an hour on July 1 and then to $13 by 2019. 
Before it's here, it's on the Bloomberg Terminal.
LEARN MORE