Rand Paul to Fight Patriot Act Renewal
Heidi Przybyla and Dave Weigel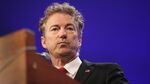 Kentucky Senator Rand Paul says he'll try to stop the U.S. Senate from renewing the Patriot Act, an anti-terrorism measure whose broad surveillance powers have become an issue in the 2016 presidential campaign.
Senate Majority Leader Mitch McConnell, also a Kentucky Republican, will seek passage of a measure this week extending central provisions of the program, which he has called critical to preventing future terrorist attacks.
Paul, who is seeking the 2016 Republican nomination for president, said there's no evidence to support that claim and that the program violates the privacy of millions of Americans by allowing the National Security Agency's bulk collection of phone records. The Patriot Act provisions, which authorize the surveillance program, will expire June 1 unless Congress acts.
"We will do everything possible -- including filibustering the Patriot Act to stop them," Paul said at Philadelphia's Independence Hall on Monday.
While Paul will attempt to hold up the bill with an extended floor debate, McConnell can end Paul's bid by collecting 60 votes to move forward with a vote on the legislation.
Paul acknowledged that his efforts to delay the measure probably wouldn't be enough to block the program.
"They have the votes inside the Beltway. But we have the votes outside the Beltway, and we'll have that fight," Paul said.
McConnell wants at least a temporary extension of the current law, which he says will allow a longer debate about intelligence methods and national security.
Younger Voters
Paul, part of a crowded field for the 2016 Republican presidential nomination, has made defeating the Patriot Act a cornerstone of his appeal to libertarians and younger voters worried about government overreach and privacy.
The junior senator from Kentucky also wants to broaden his appeal within the Republican Party, including to Republicans concerned about his cautious approach to U.S. military involvement abroad. Neither former Florida Governor Jeb Bush nor Wisconsin Governor Scott Walker has taken a position on the program, which began under Bush's brother, former President George W. Bush.
A federal appeals court ruled earlier this month that the phone records collection is illegal and "exceeds the scope of what Congress has authorized," without issuing an injunction ordering the program to stop.
The House has voted to end the bulk-data collection by allowing the data to remain with telephone companies. Yet Paul also opposes that approach. "My fear is that the USA Freedom Act, even in transferring that power to the phone companies, actually expands the power of government," said Paul.
Before it's here, it's on the Bloomberg Terminal.
LEARN MORE