Hensarling Says End of Ex-Im Won't Send Work Outside U.S.
Kathleen Miller and James Rowley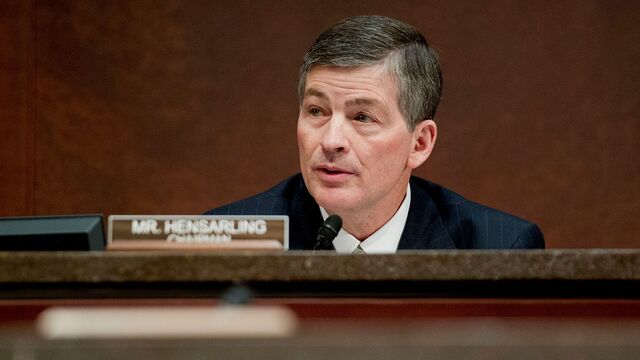 The Republican chairman of the House Financial Services Committee rejected reports that Boeing Co. or other companies might move production overseas if Congress doesn't reauthorize the U.S. Export-Import bank.
"I doubt I believe it," Representative Jeb Hensarling of Texas said at a Washington press conference Tuesday about whether failing to extend the bank's charter would drive major corporations out of the U.S. "I think it's frankly a bit of bluster."
Boeing, based in Chicago, might move some manufacturing offshore if Congress doesn't extend the bank's charter beyond June 30, the Financial Times reported May 17. It cited an interview with Scott Scherer, head of regulatory strategy at Boeing Capital.
Hensarling said he and others who oppose reauthorizing the Export-Import Bank are trying to "lead the party in a new direction" that will give priority to free enterprise over individual business interests.
The lawmakers held their press conference at the same time that House Speaker John Boehner of Ohio and other House Republican leaders were holding a regularly scheduled media briefing a few blocks away.
Senator Mike Lee of Utah, Representative Jim Jordan of Ohio and other Republican lawmakers joined Hensarling in urging colleagues to end what Jordan called "crony capitalism" by allowing the bank's charter to expire.
Perks, Privileges
At the press conference, Lee urged lawmakers to "end the perks and privileges that go to the wealthy and the well-connected." Critics say the bank primarily helps the biggest U.S. corporations rather than smaller companies more likely to need assistance.
Members of the group said they didn't expect Boehner to try to reach a deal with Democrats to extend the charter of the bank, which provides loans, guarantees and insurance to help foreign companies buy U.S. goods.
"It would be a real mistake, and I don't anticipate that happening," said Jordan, who leads a new Freedom Caucus that includes lawmakers who have opposed Boehner on government funding and his willingness to work with Democrats on some measures.
Boehner spokesman Michael Steel declined to comment on Jordan's remarks.
In the Senate, some lawmakers are having "active discussions" about adding an extension for the Export-Import Bank to trade legislation that's also under consideration in Congress, Senator John Cornyn, the chamber's second-ranking Republican, told reporters Tuesday.
Opportunities 'Waning'
"There is some desire to do it, but the opportunities appear to be waning" to attach the extension to a must-pass bill, Cornyn told reporters.
Senate Majority Leader Mitch McConnell, a Kentucky Republican, rejected the idea, saying it "would be a new burden" on the passage of fast-track trade authority. The trade measure, he said, has been "challenging enough already."
One proposed amendment to the trade legislation would extend the bank's authority to issue new loan guarantees through 2019. The amendment, proposed by Senator Maria Cantwell, a Washington Democrat, would freeze that authority if the loan-repayment default rate exceeded 2 percent for a particular quarter.
Cantwell's amendment would create a chief risk officer, a risk committee and an ethics office.
'Vitally Important'
Senate Democratic leader Harry Reid called the bank "vitally important" to the U.S. economy and said what the Republicans are doing is "really unfortunate."
The Export-Import Bank was last reauthorized by Congress in May 2012. Bank Chairman Fred Hochberg told a House Foreign Affairs subcommittee Tuesday that it helped generate 164,000 new private-sector jobs in 2014 and sent $675 million to the U.S. Treasury for deficit reduction.
He rejected claims from the bank's critics that it serves as corporate welfare.
"'Welfare' implies taking money from one group of people and handing to somebody else," Hochberg said at the hearing. "We have actually customers, clients of the bank, giving us money for a service. We render the service and then the excess we send to the taxpayer. So, it goes the exact opposite direction."
GE Division
Russell Stokes, president of General Electric Co.'s transportation division, has visited lawmakers' offices to push them to reauthorize the bank, said Jessica Taylor, a spokeswoman for the unit. The company might lose an Angola locomotive deal valued at as much as $350 million and perhaps billions of dollars in future exports if Congress doesn't extend the bank's charter, she said.
Taylor said about 1,800 jobs at GE, its suppliers and local businesses in 12 states are at risk without the bank's financing.
Hensarling said if the Senate included an extension of the bank's charter on a separate piece of legislation, House members would seek to remove it.
Representative Mick Mulvaney, a South Carolina Republican, warned members of his own party at the news conference not to think that new legislation would be enough to change how the bank operates.
"There are still folks in my party who think we can change the law and then expect the administration to follow the law," Mulvaney said. "It's not going to happen."
Before it's here, it's on the Bloomberg Terminal.
LEARN MORE