With Indian 'War Cry,' Loretta Sanchez Stumbles at Start of California Senate Race
The California congresswoman has made her bid to defeat Kamala Harris that much more difficult.
by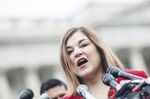 For 10-term California Representative Loretta Sanchez, it has been a campaign kick-off to forget. 
At this weekend's California Democratic Convention in Anaheim, Sanchez's singular goal was to present herself as a viable challenger to California Attorney General Kamala Harris in the race to succeed Barbara Boxer in the United States Senate. Instead, Sanchez spent valuable airtime during her speech at the convention trying to explain her use of what many considered an offensive racial stereotype when addressing a group of convention-goers.  
During her remarks late Sunday, Sanchez told the crowd that "in this crazy and exciting rush of meetings yesterday, I said something offensive and for that, I sincerely apologize." 
"Those of you who put yourselves out there like I do, who open your heart, and who don't hide behind handlers—you know how hard it can be," the congresswoman continued. "It's hard to put yourself out there and do what leaders need to do day in and day out. Sooner or later, we all make mistakes. We're all human. But that is the only way to truly connect with people. You can't change the world from behind a desk." 
On Saturday, the same day Harris delivered a rousing address to the convention, Sanchez was captured on video recounting her confusion when she received a phone call from a man who identified himself as an Indian American supporter. 
"I'm going to his office, thinking that I'm gonna go meet with woo-woo-woo-woo, right? 'Cause he said 'Indian American,'" she said, tapping her open hand against her mouth in an antiquated gesture associated with warring Native Americans.
The supporter, it turned out, was from the Indian subcontinent. The fall out from the remarks was swift. Harris called Sanchez's remarks "shocking," and potential donors recoiled. 
"She knows better, and we are very disappointed," Pechanga Tribal Chairman Mark Macarro said in a statement, the Los Angeles Times reported. 
During her apology on Sunday, Sanchez asserted that Native Americans "know that I have always had their backs. And they know what many of you don't know—that like so many Mexican Americans, I am proudly Native American on my mother's side."
To be sure, Sanchez was always going to be seen as an underdog to beat a better-funded, better-known opponent like Harris. But after this weekend, she made her task that much more difficult. 
Before it's here, it's on the Bloomberg Terminal.
LEARN MORE