Hillary Clinton Pivots from Big Money to Small Business
Can the Democratic presidential contender avoid taking a position on trade as she talks business?
by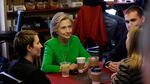 Three days after revealing that her own husband-and-wife cottage industry brought in more than $30 million since the start of 2014, Hillary Clinton arrives in Iowa on Monday to pitch herself as an advocate for small business.
For Clinton, who has not answered media questions in a month and who spent much of the last two weeks in New York and California raising millions of dollars for her presidential campaign from wealthy donors, including Beyonce, it's an opportunity to showcase her humble heartland roots and to reconnect with the "everyday people" that her campaign says are at the core of her candidacy.
Her financial disclosure form filed with the Federal Elections Committee late Friday showed how far she and her husband, former President Bill Clinton, have moved from that category, thanks largely to the couple's ability to command six-figure speaking fees.
Clinton's father, Hugh Rodham, owned a drapery business just outside Chicago, something she often mentions to remind voters that she wasn't always the person who until less than two months ago was taking in more than $200,000 a speech.
The trip to Iowa, as well as a return visit to New Hampshire on Friday, are chances for Clinton to appeal to Main Street and the centrist voters she'll need in the general election, after tacking left earlier this month on immigration and hinting that she plans to press for aggressive regulations on Wall Street.
Clinton, her campaign said, plans to outline ideas for cutting red tape for small businesses, expanding access to capital, finding tax relief for business owners and stimulating exports.
"We glad that she's focused on small business as a presidential candidate and we're eager to find out what she has in mind," said Jack Mozloom, the communications director of National Federation of Independent Business.
The group, which generally endorses Republican candidates, said that Clinton voted with its interests 25 percent of the time during her eight years in the Senate. "It's not the worst but she could do better from our perspective," Mozloom said.
Avoiding trade
But it's all while avoiding the issue Clinton has been dithering over for months: where she stand on the Trans-Pacific Partnership. The former secretary of state worked on the development of the TPP while serving in the Obama administration and wrote about it in positive terms in Hard Choices, the 2014 memoir for which she's earned at least $5 million and likely much more. On the campaign trail, however, Clinton has ducked the issue at every turn, aware that continued support would upset important Democratic constituencies on left, while opposition could undermine her former boss, President Barack Obama.
But the trade issue may prove difficult for Clinton to avoid, especially when discussing exports, and with the Senate slated to debate TPP this week.
Democrats on both sides of the issue aren't exactly aiding in her continued dodge.
On ABC's This Week Sunday, Senator Dianne Feinstein, an early backer of Clinton's presidential bid, argued that TPP will help the small businesses Clinton is touting this week. "I want to straighten one thing out, and that is that most people think this is a bill for corporate America," said the veteran Democrat, citing her home state. "In California, 95 percent of the trade is carried out by companies and business of less than 500 people."
Feinstein added that "it would be very helpful" for Clinton to take a position.
Clinton's challengers are piling on, too. Clinton should "absolutely" take a position, Senator Bernie Sanders, a Vermont independent who is seeking the Democratic party's presidential nomination, said on CNN's State of the Union. "You can't be on the fence on this one. You're either for it or you're against it." Sanders is against.
Not meeting the press
Finding out where Clinton stands hasn't been easy: The last time the Democratic frontrunner took questions from the press was four weeks ago today — April 20 in Keene, N.H. When she has spoken to reporters, it has been for a question or two at a time, generally shouted at the end of one of her roundtables. Her refusal to do the kind of extended press conference that would allow for follow up questions has led to protests from journalists and gibes from her Republican rivals. At an Iowa Republican dinner over the weekend Senators Rand Paul and Lindsey Graham and former Hewlett Packard CEO all mocked Clinton for refusing to meet the press. 
Fiorina said she's taken more than 300 on-the-record questions from the media since launching her campaign two weeks ago. Clinton, according to media accounts, has taken somewhere between nine and 13. 
Correct the Record, the new super-PAC supporting Clinton's campaign, has issued a tally documenting more than 100 questions Clinton has asked of "everyday people." 
"The Republican candidates are spending their time talking to reporters with cameras, while Hillary Clinton is talking to people across the country about the issues that affect them every day, all to figure out how she can help make their lives better. That's what leaders do," said the group's Mary Jennings.
But thus far, Clinton's interlocutors have been members of the small, carefully vetted audiences at her heavily stage-managed events.
On NBC's Meet the Press Sunday,  fellow Democrat, longtime Obama adviser David Axelrod, urged his party's would-be standard-bearer to hold a press conference. 
"She has to do it quickly and she has to start getting into the rhythm of a campaign where she's out there, she's answering questions," Axelrod said. "It would be a terrible mistake not to do that."
Before it's here, it's on the Bloomberg Terminal.
LEARN MORE