Bernie Sanders Wants to Tax Stock Trades to Pay for Free College
The Vermont senator will propose a 50-cent tax on every $100 of stock trades on stock sales.
by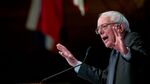 Democratic presidential candidate Bernie Sanders wants to take from the rich in order to make public college tuition-free for everyone else.
On Tuesday, the Vermont senator will hold a press conference in the nation's capital at which he will introduce a plan to use a so-called Robin Hood tax on stock transactions to fund tuition at four-year public colleges and universities. 
Sanders' bill sets a 50-cent tax on every "$100 of stock trades on stock sales, and lesser amounts on transactions involving bonds, derivatives, and other financial instruments," the group Robin Hood Tax on Wall Street said Monday in a press release. 
"The Robin Hood tax would also slow the growth of automated high frequency trading, which makes the stock market more dangerous," the press release stated. "A small tax would make risky HFT unprofitable, and help reduce the excess speculation on commodities like food and gas that drives up prices, which will protect the economy from computer-generated collapses and market manipulation."
Sanders, who is the only candidate so far to mount a formal primary challenge to Hillary Clinton, argues that making college tuition-free will help America compete in the global marketplace. 
"We live in a highly competitive global economy and, if our economy is to be strong, we need the best-educated work force in the world," he said in a press release on Sunday. "That will not happen if, every year, hundreds of thousands of bright young people cannot afford to go to college, and if millions more leave school deeply in debt." 
Before it's here, it's on the Bloomberg Terminal.
LEARN MORE