Benghazi Follows Hillary Clinton All the Way to Iowa
She promises to appoint judges who would support changes to campaign finance law, but a new report raises questions about an old ally.
by and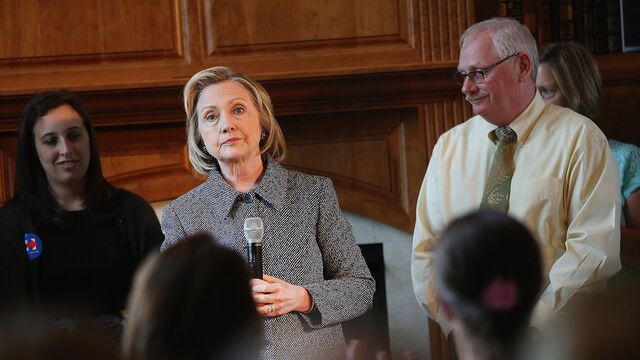 As Hillary Clinton tried to turn her attention back to the campaign trail in Iowa on Monday, a new distraction reared its head in Washington.
The New York Times reported that Representative Trey Gowdy, who is leading the panel investigating the 2012 attack on the U.S. consulate in Benghazi, Libya, planned to call longtime Clinton ally Sidney Blumenthal for a private interview.
The report described memos that Blumenthal sent to Clinton while she was secretary of state, offering advice about Libya. At the time, Blumenthal was working for the Clinton Foundation and also was advising business associates who were trying to do business with Libya's new government, the Times said. Much of Blumenthal's information appeared to come from those business associates, the Times said.
The extent to which Blumenthal may have been operating a type of back-door intelligence operation for Clinton as secretary of state has been an emerging thread of inquiry for Republicans on the Benghazi committee over the last couple of months.
Committee member Mike Pompeo, a Republican from Kansas, told Bloomberg last month that the committee intended to speak to Blumenthal, based on private e-mails that were tied to him and turned over to the panel. Among his concerns, Pompeo said in an interview, was the extent of Blumenthal's unofficial influence on policy, and security concerns surrounding such an outside "agent of influence."
In a statement, the top Democrat on the Benghazi committee, Elijah Cummings of Maryland, blasted what he called the leak of such information, including news that Blumenthal was going to be called to testify.
"These latest moves by the Benghazi Committee—issuing a subpoena without first contacting the witness, leaking news of the subpoena before it was served, and not holding any committee debate or vote—are straight out the partisan playbook of discredited Republican investigations," he said.
"The fact is that we have had these exact emails for three months, and the latest abuses by the committee are just one more example of a partisan, taxpayer-funded attack against Secretary Clinton and her bid for president," said Cummings.
Cummings had no immediate comment on Blumenthal's activities detailed in the e-mails.
In Iowa, Clinton said that she ultimately hopes to scale back the influence of "dark money" in politics, promising to "appoint Supreme Court justices who will support the right to vote and not the right of billionaires to buy elections." 
It was an apparent reference to court decisions that opened the door to the rise of super-political action committees. Those committees operate independently from candidate campaigns and can accept unlimited donations from individuals and corporations.
Though Clinton spoke against the trend on Monday, she has at least two super-PACs working on her behalf. 
Clinton spent the afternoon at the first grassroots gathering she's attended this cycle in Iowa,  a Mason City house party that drew committed supporters and some undecided Democrats.
"It really is about people-to-people connections," Clinton told about 60 people who had gathered in the living room and kitchen of Dean Genth and Gary Swenson. It was a quiet rebuke to assertions that Clinton has gone too long–a full four weeks–since taking questions from reporters.
Clinton's staff had long intended to limit her interactions with the press during the early stages of the campaign, with the goal of keeping the candidate's focus—and the media's—on the voters she was meeting. 
She responded to a few shouted questions on her first day on the campaign trail in mid-April, in Monticello, Iowa, and talked to reporters briefly about the book Clinton Cash at the end of a roundtable in Keene, N.H.
Before it's here, it's on the Bloomberg Terminal.
LEARN MORE