What a Presidential Candidate's Financial Disclosures Do, and Do Not, Reveal
The reporters, opposition researchers, and transparency advocates who comb through the reports find them maddening.
by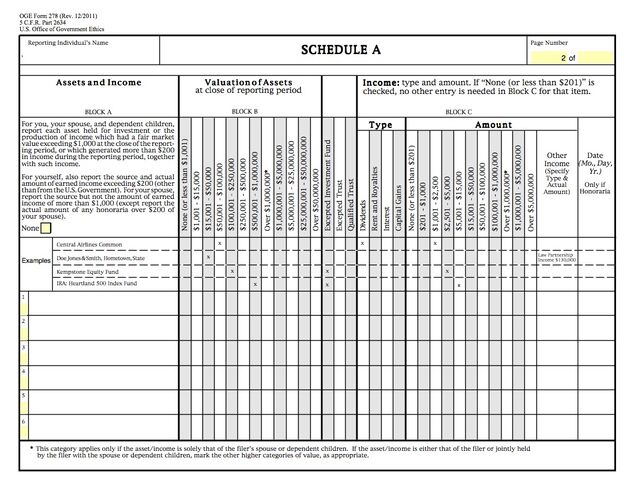 (This story was updated at 10 a.m. on Friday)
Presidential candidates are supposed to start disclosing their personal finances as soon as Friday. That doesn't mean the public will be getting a complete picture of their relative wealth. 
Candidates report assets' value in ranges so broad that they can be virtually meaningless. Their homes, cars and federal retirement plans are generally off limits from public view. Nor are presidential contenders subject to rules that make members of Congress disclose stock transactions within 45 days and reveal who holds their mortgages. The deadline is flexible, too.
At least two 2016 presidential hopefuls—Rand Paul and Ted Cruz—who would otherwise have to file on Friday have already sought legally allowed extensions. Hillary Clinton plans to file by the end of Friday, but her campaign has not yet said whether it will make the document public before the government does. The Federal Election Commission has up until 30 days to process and release the paperwork.
"It offers a window into a candidate's financial holdings, but the window is not crystal clear," said Rob Kelner, a Republican attorney who specializes in election law at Covington & Burling LLP in Washington and who is advising potential presidential candidates.
The reporters, opposition researchers, and transparency advocates who comb through the reports find them maddening. The rules are set by Congress, which of course has an interest in maintaining vagueness.
"The top-level thing we always try to glean is their net worth and there are definitely some problems with that," said Daniel Auble, a senior researcher at the Center for Responsive Politics. "They report everything in ranges, and the higher the value of the assets, the bigger that range is. So accuracy is a problem."
Others dismiss those complaints. Focusing on the difficulty of calculating net worth misses the point of requiring candidates to disclose information about their personal finances, says Gregory Walden, an attorney at Akin Gump Strauss Hauer & Feld LLP in Washington. He has assisted candidates, including Mitt Romney, with filing financial disclosure reports.
"It's not intended to be a net worth statement," he said. "It's intended to guard against conflicts and potential conflicts."
See you in September
Federal law requires presidential candidates to file disclosures within 30 days of announcing their candidacy, or on May 15, whichever is later. They can get two extensions of up to 45 days each, and the Federal Election Commission can take up to 30 days to release the filings. So it could be September before the candidates who declared first have to say anything publicly.
The rules require candidates to list their sources of income, transactions, liabilities and assets, all within broad ranges. They also must release information about their spouses and dependent children.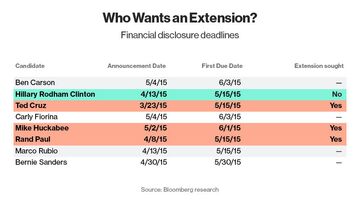 For people with many different assets, adding up all of those ranges can yield unhelpful results. For example, someone with holdings of $2 million in 10 stocks would report them all as $1 million to $5 million, meaning that the public would know only that the holdings were worth a total of $10 million to $50 million.
For example, Romney's individual retirement account—which was so big that it later prompted tax proposals from President Barack Obama—was worth $20.7 million to $101.6 million during the campaign. Jay Rockefeller, the former Democratic senator from West Virginia and descendant of what was once one of the country's wealthiest families, reported two trusts that each had more than $50 million in them, the highest possible category.
'You just have no idea'
Often, candidates and lawmakers don't provide much detailed information about obscure-looking holdings such as hedge fund or private-equity investments that aren't major-company stocks.
"It may be an accounting firm or a law firm," said Bill Allison, a senior fellow at the Sunlight Foundation. "It may be a car dealership. You have no idea."
Candidates don't always see it the same way, particularly those who haven't sought or held federal office before, Walden said.
"They're surprised at the granularity, the specificity of the request," Walden said. "Many of them can't see the public interest in disclosing certain things that they can't see being a potential conflict."
Even with the limitations, the forms can reveal financial relationships and maneuvers that can cause political difficulty for candidates and lawmakers.
For example, Hillary Clinton's forms as secretary of state showed that she had moved her New York home into a trust for estate planning purposes.
'Politically challenging'
"Many candidates find these forms to be politically challenging because the media and their opponents mine them for little toxic nuggets that can be used against the candidates," Kelner said. "Candidates' level of satisfaction with filling out a financial disclosure form is inversely related to their wealth."
Candidates of any wealth level aren't required to reveal any information about their personal property—boats, cars, jewelry, artwork, furniture—and they don't have to disclose their personal residences unless they generate income.
That's why Romney's financial disclosure forms didn't list any of the multiple homes that became an issue for him during his presidential campaigns in 2008 and 2012. Also, unlike members of Congress and the incumbent president, candidates don't have to disclose any detail about their mortgages.
"If someone has a beach bungalow in the Bahamas," Allison said, "the taxpayers won't know about that if they can claim it as a residence."
Income tax forms
More detailed glimpses into candidates' financial status come from income tax forms, which they may provide voluntarily. If past history is any guide, that will come much later in the course of the 2016 campaign.
There's no requirement for candidates or elected officeholders to make their tax filings public. However, it has been a long-standing annual tradition for presidents and vice presidents to release theirs. As a result, most serious candidates for the White House follow suit. Usually, however, this comes as late in the campaign as possible and only after a flurry of queries from reporters and challenges from opponents. 
In 2008, Barack Obama released his tax returns in March and challenged the much wealthier Clinton to do the same, which she did. That pattern repeated itself on the Republican side in January 2012, when Newt Gingrich released his tax returns, helping prompt Romney to do the same.  
Those tax documents don't necessarily present a full picture of someone's wealth, but they do provide more detailed information on decisions about charitable contributions, investment strategies and foreign holdings.
For now, the public is getting zero information about all of the people who are doing everything candidates do without actually saying they're running for president (unless you count those who already have to file financial disclosure forms as sitting members of Congress).
Until they say the magic words, Scott Walker, Jeb Bush, Rick Santorum, Donald Trump and Chris Christie won't have to disclose a thing, though some of them have released information in their current or previous jobs.
"The longer the wait, the more they can do kind of under the radar," Allison said. "And that includes not disclosing their net worth and their assets."
—Jennifer Epstein contributed reporting.
Before it's here, it's on the Bloomberg Terminal.
LEARN MORE