House Votes to Block Undocumented Youth From Serving in the Military
The vote captures a dramatic shift in the immigration debate, and Hillary Clinton's campaign pounces.
by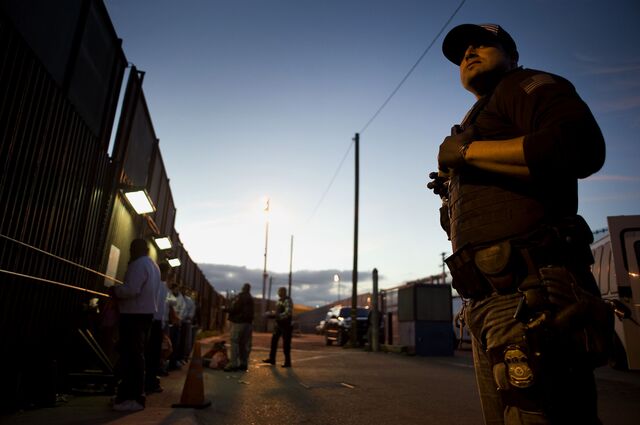 A vote Thursday evening in the House of Representatives provided a jarring reminder of how far the national immigration debate has shifted in the last two years.
By a margin of 221 to 202, the chamber voted to strip language from the National Defense Authorization Act that would have encouraged the Pentagon to allow young undocumented immigrants to serve in the military if they're protected under President Barack Obama's Deferred Action for Childhood Arrivals program (commonly called DACA).
All 221 votes came from Republicans; 20 Republicans joined a unanimous Democratic caucus to oppose the amendment, offered by Representative Mo Brooks, Republican of Alabama.
The political implications were immediately on display as Democrat Hillary Clinton's presidential campaign released a statement criticizing the House.
"If these courageous young men and women want to serve, they should be honored and celebrated, not discriminated against," said Amanda Renteria, Clinton's national political director, adding that "[w]hile we keep up the pressure for comprehensive action, allowing DREAMers to serve in the military is the right step forward."
None of the top Republican presidential contenders weighed in. A spokesperson for Senator Ted Cruz of Texas, an outspoken critic of illegal immigration, declined to comment. The issue captures a schism between many base voters who oppose leniency for people in the country illegally and Hispanic voters in swing states who support pro-immigration policies.
For Republicans in Congress, the base appears to be winning, marking a sea change since the Senate voted 68-32 in June 2013 to grant a path to citizenship for the estimated 11 million undocumented immigrants.
Brooks hailed the Thursday vote as a defeat for those "who seek to help illegal aliens" and "deprive American citizens and lawful immigrants of military service opportunities." The initial language favoring DREAMers in the military was offered by Representative Ruben Gallego, Democrat of Arizona.
Before it's here, it's on the Bloomberg Terminal.
LEARN MORE