Jeb Bush Says He Would Not Have Invaded Iraq
It completes a reversal of his response to that question in a Fox News interview that aired earlier in the week.
by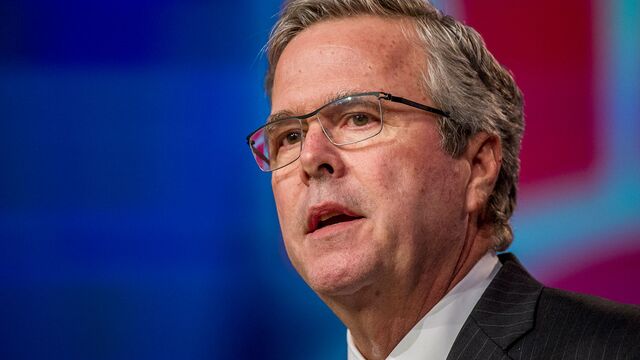 Likely Republican presidential candidate Jeb Bush said Thursday he would not have invaded Iraq knowing what he does now, completing a reversal of his response to that question in a Fox News interview that aired Monday.
"I would have not engaged, I would not have gone into Iraq," Bush told about 100 business officials in Tempe, Arizona, after touring a local brewery.
Bush also told reporters that he believed the war was worth it. "It was worth it for the people that made major sacrifices," he said. "In 2008, Iraq was stable. It was fragile, but it was stable. And it was because of the heroic efforts of a lot of people. And re-litigating this and going through hypotheticals, I think, does no good for them."
Bush has faced increasing scrutiny since the airing of the Fox interview, including from fellow Republican presidential aspirants have been quick to say that they wouldn't have authorized the 2003 invasion had they know the intelligence was faulty.
On Tuesday, he said he had misinterpreted the question and didn't have an answer to the "hypothetical" inquiry. He said he thought the question was whether he would have supported the war with the intelligence that was available in 2003. "My mind kind of calculated it differently," Bush said on Thursday.
The gaffe was the first significant misstep for Bush since he started actively exploring a presidential campaign in December. It highlighted, for Bush, the difficulty he has trying to remain loyal to his family while separating himself from his brother and father who once held the office. Many Republican and independent voters have expressed reluctance about a potential third Bush president.
"I don't go out of my way to disagree with my brother," Bush told reporters on Thursday. "I am loyal to him. I don't think it's necessary to go through every place where I disagree with him. As it relates to the Iraq war, I hope I was clear."
Asked how the U.S. should proceed in Iraq going forward, Bush said, "We need to reengage, and do it in a more forceful way.
"The president is very reluctant, for whatever reason, to make a clear commitment that he should have kept 5,000, 10,000 troops there," Bush said. "There's been success since we've re-engaged. There has been some success. ISIS has been pulling back. And this is not to say that we should go it alone. I'm not proposing that, nor is President Obama for that matter. In order to build a coalition in order to rid ourselves of this barbaric Islamic terrorist threat, I think we have to do it in cooperation."
Before it's here, it's on the Bloomberg Terminal.
LEARN MORE