California's Surging Revenue Lets Brown Increase Spending
Alison Vekshin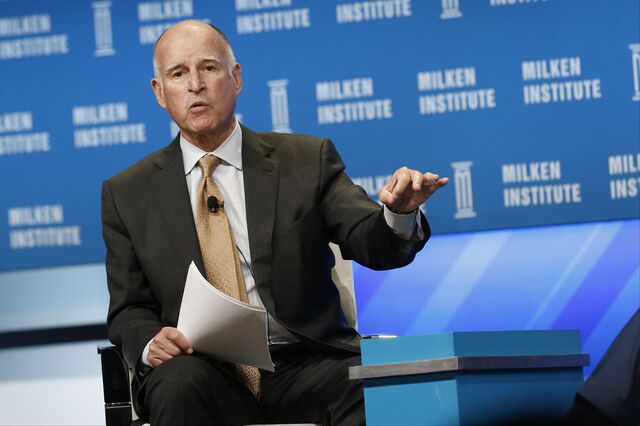 California Governor Jerry Brown said an expanding economy has channeled an additional $6.7 billion in revenue into state coffers, allowing him to boost proposed spending next year to a record $115 billion.
Most extra money will go to schools, Brown said Thursday at a Sacramento news conference where he released a revised budget for the year that begins July 1. Fellow members of the Democratic Party who control the legislature said he should spare some cash to augment programs for the poor.
California "is definitely on the rebound from just a few years ago when the state was mired in red ink," said Brown. "The finances of California have stabilized."
Brown, 77, the longest-serving governor in California history, has steered the world's seventh-largest economy away from deficits and turmoil. At points, it paid bills with IOUs. In the past two years, however, the three biggest bond-rating companies raised their rankings on California four times, more than any other state.
Voters increased taxes in 2012 and let lawmakers pass budgets with a simple majority instead of a two-thirds vote. Brown is capitalizing on a surge in revenue from capital-gains taxes that turned a $25 billion deficit four years ago into a surplus.
Writing, Rewriting
The governor is required to update his budget proposal in May after most income taxes are paid. Lawmakers must pass a budget by June 15 or forfeit their pay.
Brown's new plan would provide health care to undocumented immigrants and offer an additional $2.2 billion for responding to a record drought.
Brown announced an agreement with University of California President Janet Napolitano that would freeze in-state tuition for two years by steering $436 million to the university system's pension obligations, among other funding increases. Napolitano and Brown clashed last year when the Board of Regents granted her authority to raise tuition, inciting student protests.
Democrats urged Brown to steer more funds to the neediest.
"It is time for additional reinvestments in early care and education, social services, health care and other programs that will help lift more people out of poverty," Senator Mark Leno, chairman of the Senate Budget and Fiscal Review Committee, said in a statement.
Brown's plan would create an earned-income tax credit to steer $380 million to 2 million low-income workers. The credit would provide an average $460 annually to households without dependents whose income falls below $6,580 and those with at least three dependents earning below $13,870.
Senate Republican leader Bob Huff told reporters the plan scants transportation and criticized Brown's proposal to spend $500 million on a high-speed rail project.
"What we need to be doing is investing our transportation infrastructure money on the things that matter to people right now," Huff said. "Right now, our roads are crumbling."
Brown in January proposed a $113 billion general fund budget, which pays for most core operations.
The new $115 billion proposal is a 6 percent increase from the current year's $108 billion.
Next year's budget would spend $169 billion when the general fund, special funds and bond funds are included, an increase of 2 percent. The plan would deposit an additional $633 million in a rainy-day fund.
Before it's here, it's on the Bloomberg Terminal.
LEARN MORE