Benghazi Panel Republican Criticizes Clinton Testimony Plans
Billy House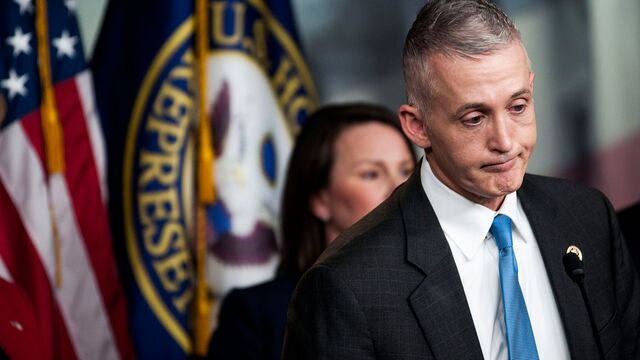 The Republican chairman of a House panel investigating the 2012 attack in Benghazi, Libya, criticized Democratic presidential candidate Hillary Clinton for seeking to limit her testimony before his panel to one appearance.
Representative Trey Gowdy of South Carolina, chairman of the House Select Committee on Benghazi, also said Thursday the State Department hasn't turned over e-mails and other records requested by the panel. As a result, he said he will delay scheduling an appearance by Clinton, who was secretary of state at the time of the attack.
"Secretary Clinton is insistent she will appear once and only once before the select committee," Gowdy said Thursday in a statement. "The committee must be equally insistent that her appearance is thorough and fully productive."
Gowdy released a letter to current Secretary of State John Kerry on what the lawmaker said was the department's failure to produce documents more than six months after they were requested. The letter asked Kerry to ensure that his department provides the information.
State Department spokesman Alec Gerlach responded, "It's clear the committee doesn't know how to take 'yes' for an answer."
The department has turned over 300 e-mails from Clinton and is preparing to release them publicly. Gowdy's committee said May 8 that it has held more than two dozen classified and unclassified briefings with the administration and executive branch agencies. The State Department has turned over tens of thousands of pages of documents, it said.
Clinton's Lawyer
Clinton's lawyer, David Kendall, wrote to Gowdy earlier this month that she is willing to appear before the committee for questioning once, in public, but not twice as the panel requested.
Kendall didn't immediately respond to requests for comment about Gowdy's statement Thursday.
Democrats have cast the Republican investigations focusing on Clinton as being inspired by partisan politics. Republicans want to keep the investigation going and Clinton's potential appearances before the committee open-ended, they contend.
The top Democrat on the Benghazi Committee, Representative Elijah Cummings of Maryland, said in a statement that, "Republicans are on a fishing expedition for anything they can use against Secretary Clinton in her presidential campaign, and every time they come back empty-handed, they extend their trip at taxpayer expense."
Election Year
Cummings said the committee is using the request for documents as an "excuse to drag out Secretary Clinton's testimony until closer to the election."
The committee has said it doesn't expect to issue a final report on its findings until sometime in 2016, the presidential election year.
Ambassador Christopher Stevens and three other Americans were killed in the attacks on the U.S. diplomatic compound in Benghazi and a nearby CIA outpost.
Republicans have tried for more than two years and through multiple investigations to prove that Clinton failed to bolster security before the assault and shared blame for the initial, erroneous account by President Barack Obama's administration of what happened.
Those efforts, now concentrated through Gowdy's committee, were re-energized with the disclosure earlier this year that Clinton used a private e-mail address and home server while secretary of state.
Clinton Appearance
Gowdy had asked Clinton to appear for an interview before his committee to discuss the e-mails during the week of May 18, and again to more broadly discuss the Benghazi attacks by June 18.
Kendall said in a May 4 response that Clinton previously testified for more than five hours before House and Senate committees about the Benghazi attack.
In her previous testimony in January 2013, Clinton said she never saw a request for more diplomatic security in Libya, which went to staff members though all such communications are addressed to the secretary of state by protocol.
She responded with an angry outburst when she was questioned on why the Obama administration didn't know sooner that the attack in Benghazi didn't grow out of a protest.
"The fact is we had four dead Americans," Clinton told the Senate Foreign Relations Committee. "Was it because of a protest or was it because of guys out for a walk one night who decided that they'd go kill some Americans? What difference, at this point, does it make?"
Before it's here, it's on the Bloomberg Terminal.
LEARN MORE