It's an Obama-Warren War on Trade, and Progressives Are Just Fine With That
Why the trade war now has a face.
by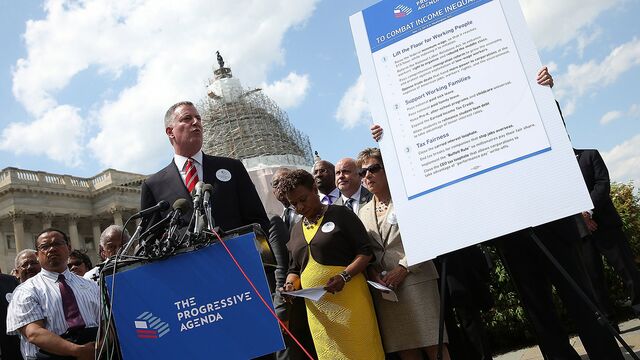 The timing could not have been better. Right before 3 p.m., all but one Democratic senator* voted against a test vote on fast track for trade. Even Oregon Senator Ron Wyden, who'd stuck out his neck to pass a trade deal, joined his colleagues in delaying it. "I want the world to know Ron Wyden is a man of his word," Senate Minority Leader Harry Reid said, a small comfort to free traders who had just watched Wyden collaborate with progressives and blow up the deal.
At that very moment, New York Mayor Bill de Blasio was rallying progressive members of the House and Senate, as part of his well-covered "Progressive Agenda" push. The mayor towered over New York Representative Charlie Rangel, Connecticut Representative Rosa DeLauro, Minnesota Representative Keith Ellison, Oregon Senator Jeff Merkley, and a team of union leaders representing the SEIU, AFSCME, CWA, AFT, USW. They gathered under a relentless sun—it was the hottest day of 2015 thus far—removing their jackets and downing bottled water as speaker after speaker burned up time at the mic.
DeLauro used her time to celebrate. "Over the past 25 years, a succession of bad trade deals have cost American jobs and depressed wages," she said, before a crowd of activists, staffers, and reporters. "Right now, just now, the Senate has just voted to block fast track. But my friends, the fight is not over."
The battle to block fast track had taken months, and the work of union members who had organized and rallied endlessly. The key Democratic senator, who whipped colleagues against fast track, was Ohio Senator Sherrod Brown. And the rally outside was pegged to the release of a Progressive Agenda—people showing up next to de Blasio were scrawling their signatures on a blown-up version of his 13 points, everything from student debt refinancing to a $15 per hour minimum wage to universal pre-K.
Yet as union leaders beamed, the rally quickly became about trade, and about how President Barack Obama had belittled Massachusetts Senator Elizabeth Warren and other critics. The president had said that he "and Elizabeth" disagreed, that she misunderstood the parameters of the trade deal, When de Blasio started taking questions, he found himself defending Warren against the president. In this personality-first manner, the beer-track issue that had united big labor merged with the wine-track power politics of elite progressives.
"The bottom line on trade is that I couldn't agree more with Elizabeth Warren and progressives who say they're deeply concerned about this trade deal," said de Blasio. "We all live in the shadow of NAFTA, it's as simple as that. We all saw a deal previously that was supposed to strengthen the hand of American workers, and weakened American workers profoundly, weakened our manufacturing sector. There's very real concern that this deal could do the same."
Asked if he thought the president had made it personal, de Blasio only partially disagreed. "We have a respectful disagreement on the issue," he said. "That's not unheard of in the Democratic Party."
The amount of respect really relied on how close an activist was to the president. The labor leaders outside the Capitol were not feeling particularly cozy with him. Larry Cohen, the president of CWA, wore a "STOP FAST TRACK" sticker and shared the vote count—45 votes against cloture—with Ellison, who marveled at the victory. "Great day, right?" said Cohen. Leo Gerard, president of the United Steelworkers, told the members of Congress next to him that the union had been decimated, and under Democratic rule.
"Twenty years ago, we had 30,000 members in Baltimore," he said. "Now we have three."
But that was an old story. The new story, the one that drew out the press, was a feud between the president and Warren. Inside the Capitol, a few minutes from the rally, Ohio's Brown was egging that on. He told reporters that Obama had insulted Warren by saying she was acting like a politician and "referring to her as first name when he might not have done that for a male senator, perhaps." It hardly mattered that Obama had sometimes called Brown by his first name; Brown's wife, the Pulitzer-winning columnist Connie Schultz, was right there with him, joining the defense of Warren.
By personalizing the battle, progressives were asking for time to explain why they wanted to slow down the negotiations. Illinois Representative Jan Schakowsky, a progressive who had supported Obama early in his first campaign, insisted that critics simply thought a better deal was possible, and that the people strategizing for one should be respected and not mocked. "The investor state dispute settlement—our trade partners are not demanding that," she said. "This is something that mostly serves large corporations."
Schakowsky could see herself voting for an ideal trade package. DeLauro took another tack, arguing that the defenders of Fast Track were underestimating the opposition, and had been proven wrong before.
"President Clinton called those of us who opposed NAFTA 'thugs,'" said DeLauro after her speech. "That we were wrong-headed, that we didn't know what we were talking about."
Yet DeLauro hesitated to criticize Hillary Clinton's own non-existent position on the trade debate. The Democratic front-runner, whom DeLauro had already endorsed, had only talked about trade promotion authority and the Trans Pacific Partnership through a spokesman. Her position was that a deal needed to "put us in a position to protect American workers, raise wages and create more good jobs at home." That was hardly a position at all.
"When the secretary spoke, she spoke not about trade for trade's sake," said DeLauro. "She spoke about middle class families."
Unions had attempted to get Clinton to take a more robust position, or even to come out against the administration she'd been part of. That had not worked. In the end, they had found a way to get congressional Democrats to slow down the deal, shifting the bounds of debate before Clinton could rejoin it. The outside pressure had moved Democrats against fast track; the inside game, which the president remarkably stumbled into, had bought the progressives unexpected time and media attention. Their timing, again, was perfect.
*Delaware's Tom Carper.
Before it's here, it's on the Bloomberg Terminal.
LEARN MORE