How Amtrak Became a Political Football
Lawmakers have long been divided on how much, if anything, the federal government should spend on passenger rail service.
by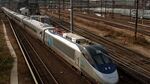 Tuesday night's derailment of an Amtrak train outside Philadelphia is putting a spotlight on the government-subsidized passenger line's aging infrastructure and the ongoing debate over the future of rail service — and the degree to which those have become partisan issues.
The accident, which killed six people and injured dozens more, put Democrats on the House Appropriations Committee are calling for restoration of $1.31 billion in passenger rail funding that Republican budget hawks wanted to cut from an appropriations bill.
"It's a battle that has been waged for years," said former New York Senator Al D'Amato, a Republican. "Many of the Republican areas, the South, the West, they have little if any need [for passenger rail service], so consequently they are more reluctant to vote for funding." 
Amtrak operates as a for-profit corporation, but it survives on hotly-debated federal and state subsidies. President Richard Nixon supported it in 1970 as a means to maintain rail service in the age of dying private railroads. In recent years, though, Amtrak has increasingly become a target of Republican budget hawks.   
In the last bill to reauthorize federal support for passenger rail programs, which passed in the House March, all 101 of the "no" votes were from Republicans.
On the state level, Republican leaders, including two possible presidential candidates, New Jersey Governor Chris Christie and Wisconsin Governor Scott Walker have actively opposed recent rail improvements for their states as a waste of taxpayer dollars.
The mere idea of a rail service underwritten by taxpayers is objectionable to some in Congress. In 2013, Amtrak wrote a letter to Vice President Joe Biden and House Speaker John Boehner asking for to nearly double its capital budget for new trains and track repairs, Representative John Mica, a Florida Republican, wrote an email to Bloomberg saying: "Only in America could we pour more taxpayer dollars into a Soviet-style passenger rail system."
Mica, until 2013 the chairman of the House Transportation and Infrastructure Committee, told Politico that he was on a "holy jihad" to overhaul the railroad.  He called Amtrak Executive Officer Joe Boardman before the committee no less than five times in 2012.
In 2014, a transportation funding bill that would have provided Amtrak with $1.3 billion, a $37 million increase than the amount that had been allocated the previous year (excluding funds to repair damage from Hurricane Sandy) died. Republicans opposed the overall bill  because the total amount of spending in it would have exceeded the budget limits Congress set in 2011 when it raised the federal debt limit.  
"I'd remind my colleagues on the other side that we've got a $16 trillion debt; that we're spending hundreds of billions of dollars a year we don't have," then -Senate Minority Leader Mitch McConnell, a Kentucky Republican, said at the time. "This is how you get Greece. This is how you get Detroit. So we can't do this."
The idea of privatizing Amtrak has become a rallying point for Republicans in presidential elections. Mitt Romney called for it during his 2012 campaign, as did former President George Bush during his campaign. 
President Barack Obama, on the other hand, wanted to make the expansion of high-speed rail one of the signature accomplishments of his presidency. Despite $11 billion in spending since 2009, according to the New York Times, the initiative hasn't gone anywhere, in large part due to resistance from Republican governors.
In 2011, Florida Governor Rick Scott rejected an offer of $2.4 billion for a high-speed rail service to connect Tampa and Orlando. "The truth is that this project would be far too costly to taxpayers and I believe the risk far outweighs the benefits," Scott said at the time. (His action has a precedent: In 2000, then-Governor Jeb Bush cut funding for a high-speed line between Miami and Tampa.)
Wisconsin Governor Scott Walker also rejected federal funds for high-speed rail in 2010. 
New Jersey Governor Chris Christie killed the Access to the Region's Core Project, an initiative to build a $12.4 billion tunnel between New York and New Jersey, which would have doubled commuter capacity between New Jersey and Manhattan. 
Before it's here, it's on the Bloomberg Terminal.
LEARN MORE