De Blasio's Progressive Agenda Doesn't Change Anything for Hillary Clinton
Bill de Blasio has been waiting for Clinton's "vision," but the progressive agenda he introduced on Tuesday sounds like what she's been saying already.
by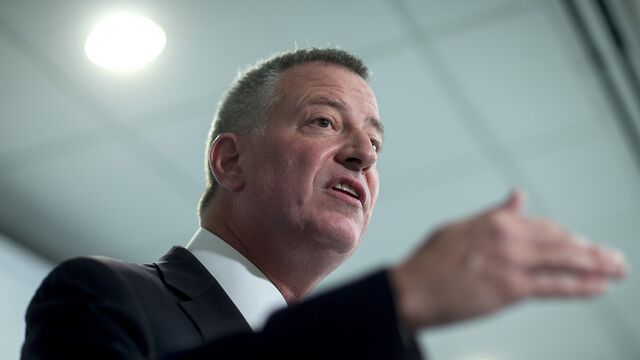 Back in late 2013, the discussion over Hillary Clinton's "progressive" street cred focused on whether she was too closely tied to Wall Street and whether her former Senate campaign manager, Bill de Blasio, who'd just been elected mayor of New York, could help her fend off the Elizabeth Warren threat in 2016. 
Instead, de Blasio has morphed into a symbol of liberal skepticism about the substance of Clinton's policies. During an interview on Meet the Press on the morning of Clinton's April 12 announcement, de Blasio called her "one of the most qualified people to ever run" for president, but said he needed to "see a vision" before endorsing her.
On Tuesday he unveiled a version of what he thinks that vision should be—his "Progressive Agenda to Combat Income Inequality," a list of 13 policy goals aimed at workers, families, and tax fairness. But instead of pointing out differences between himself and Clinton, the agenda showed that the two are pretty closely aligned.
With the exception of trade—specifically, whether she supports deals such as the Trans-Pacific Partnership—Clinton has agreed with every point on the list to some degree.
Either she has specifically laid out a policy that matches de Blasio's agenda (an overhaul of immigration policy, paid sick leave, paid family leave, refinancing student loan debt, closing the carried interest tax loophole) or generally supported the goals without giving specific figures. The Huffington Post has a full rundown of how her policy positions line up with de Blasio's agenda.
For example, the agenda calls for a $15 per hour minimum wage with future increases tied to inflation. Clinton has expressed support for fast food workers seeking for a $15/hour wage, but hasn't put forth a specific number.
Where Clinton differs from de Blasio—as well as most of the politicians to her left—is on trade, specifically the Trans-Pacific Partnership. Clinton has not explicitly said whether she supports TPP, and only talked about trade deals in general terms. The agenda calls for opposition to trade deals that "hand more power to corporations at the expense of American jobs, workers' rights, and the environment." 
On that front, Clinton's most vocal critics include Vermont Senator Bernie Sanders, a declared Democratic presidential candidate who has been a leading voice in the Senate fight against fast-track authority for the TPP, and former Maryland Governor Martin O'Malley, a potential candidate who has made a point of trolling Clinton on issues such as the trade deal.
Ahead of Tuesday's setback for the trade deal, O'Malley released a very clear letter to supporters on his vision for trade deals. "As Congress votes on fast-tracking TPP, I want you to hear from me where I stand," the letter read. "We should not be engaging in a race to the bottom with bad trade deals like TPP that could kill jobs. Period."
Before it's here, it's on the Bloomberg Terminal.
LEARN MORE