Chris Christie's Cure for U.S. Economy Fails as Remedy for Own State
Terrence Dopp and Elise Young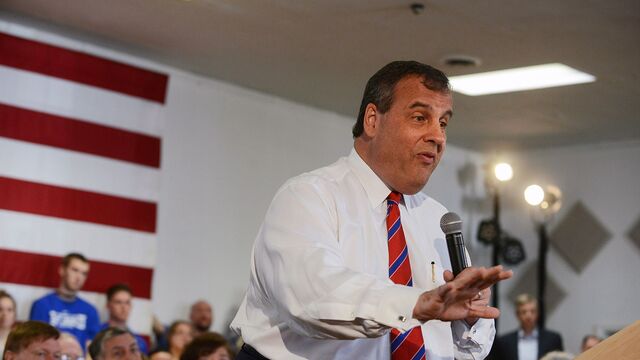 New Jersey Governor Chris Christie, courting New Hampshire for a possible 2016 presidential run, is writing a prescription for national economic policy even as the recovery eludes his home state.
The two-term Republican on Tuesday proposed lowering the top income-tax rate to 28 percent from 39.6 percent and the corporate rate by 10 percentage points. Christie said he would end some deductions to ensure that his plan "is revenue neutral and does not materially increase the deficit."
Christie's call for tax cuts to boost the economy echoes policies he has pushed in New Jersey, where he has reduced levies on businesses and vetoed surcharges on the rich. Democrats, who control the legislature, rejected his proposed 10 percent income-tax cut as the state's recovery lagged behind the nation's and revenue fell short of his forecasts. New Jersey has been hit with a record nine credit-rating downgrades under Christie as he struggled to balance the budget amid rising costs.
"The governor now wants to do for the country what he's done for New Jersey: produce a stagnant economy that helps the wealthy at the expense of the middle class and working people," state Senate President Stephen Sweeney, a West Deptford Democrat, said in a statement.
Christie announced his economic plan for the nation in New Hampshire, which holds the first presidential primary. It's his fifth visit to the state in five months as he tries to salvage a potential White House run.
Retirement Age
Last month he laid out a proposal in the state to reduce Social Security payments for higher-income earners and raise the retirement age.
On Tuesday, he departed from past high-profile speeches by refraining from holding up New Jersey politics as a model for the U.S. Back home, his approval ratings are at all-time lows after a year plagued by a traffic scandal and a budget crunch.
Christie's favorability ranked seventh among likely Republican primary voters in a Bloomberg Politics/Saint Anselm New Hampshire poll released Tuesday, behind leaders Rand Paul, Marco Rubio and Jeb Bush.
Christie on Tuesday said the U.S. should have three individual income-tax rates instead of the current seven, with the lowest less than 10 percent. His ideas, part of what he called "A Five-Point Plan for 4 Percent Growth," are similar to those espoused in the 2012 presidential campaign by Mitt Romney, the defeated Republican candidate, and his running mate, Paul Ryan.
'Partisan Politics'
During Christie's 2011 New Jersey budget address, he said Republican and Democratic governors alike "now look to New Jersey as a beacon of hope." He revisited the theme that year at the Ronald Reagan presidential library in Simi Valley, California, saying he and some New Jersey lawmakers were putting "the interests of our state above the partisan politics of their caucuses" on such issues as pensions and benefits.
On Tuesday, he described the other party as "today's Democrats," led by President Barack Obama, creator of a "roaring financial economy for the wealthy and a weak real economy for the middle class."
"As a Republican, I don't suffer from the disease that Democrats do," he said. "I don't feel the political need to vilify the wealthy and accomplished." Obama's policies, he said, "have led to a crippling decline of middle-class wages and opportunities, while our wealthiest have gotten wealthier on a stock market fueled by borrowing and easy money."
After greeting voters and touring a technical school on Wednesday in Manchester, Christie said his economic plan differs from previous ones because it includes payroll-tax cuts for workers under 21 and over 62. Reducing the bottom tax bracket and simplifying deductions will help the poor and middle class, he said.
"I wish I could have implemented the kind of plan I talked about yesterday in New Jersey, except you have Democrats in my state who still are talking about raising taxes," he said.
Yet in New Jersey, Christie's record amount of corporate incentives and four vetoes of Democratic-sponsored bills calling for a millionaire's tax -- moves he said would keep the richest from fleeing to lower-cost states -- have yet to pay off.
Between 2009 and 2011, all income increases went to New Jersey's top 1 percent of earners, according to a 2014 study headed by Norman J. Glickman, a professor at Rutgers University's Edward J. Bloustein School of Planning and Public Policy in New Brunswick. In the fifth-most expensive U.S. state to live in, 34 percent of households "cannot meet the bare costs of life, let alone middle-class life," the report found.
Though Christie has awarded more than $2 billion in economic development tax breaks since 2014, promised employment growth hasn't kept pace. The nation, and neighboring New York and Pennsylvania, have regained all the jobs lost in the 18-month recession that ended in 2009. New Jersey has gotten back 62 percent.
One-Party Rule
"He's been very pro-business," Tom Bracken, president of the New Jersey Chamber of Commerce, which supports many Christie policies, said in an interview. "The results have been less than spectacular, but it's not for a lack of trying."
The governor was hamstrung, Bracken said, by almost a decade of one-party Democratic rule prior to his taking office in 2010. Christie's dismantling of onerous regulations is making the state more attractive to business owners, he said.
Christie's economic proposal also calls for fewer regulations, along with a national energy policy, shutting government programs that he said stifle growth, and pouring more money into research and development. He said boosting R&D spending could be accomplished partly by cutting outlays on social welfare programs known as entitlements.
Harry Stein, director of fiscal policy for the Democratic-leaning Center for American Progress in Washington, said tax restructuring as Christie proposed means most reductions go to the wealthiest.
"It's hard to see how this works without a large tax increase for the middle class," he said. "What Christie is talking about is not realistic."
Before it's here, it's on the Bloomberg Terminal.
LEARN MORE