Amtrak Crash Shows Need for More U.S. Transit Money, Mayors Say
Henry Goldman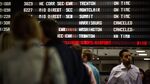 The Philadelphia derailment of an Amtrak train bound for New York from Washington that killed six and injured scores of others is "a wake-up call" for the U.S. to spend more on mass transit, New York Mayor Bill de Blasio said.
De Blasio, a Democrat, and Republican Oklahoma City Mayor Mick Cornett called on the federal government to boost funding for regional and commuter transportation and other forms of infrastructure. The city leaders are in Washington Wednesday to promote a bipartisan effort to push Congress to adopt a six-year plan that increases annual transportation funding above its current $50 billion.
"This is part of our job, to change the paradigm so that there are resources for infrastructure and transportation," de Blasio said on MSNBC's "Morning Joe" program. "Right now, we're just putting Band-Aids on a failing infrastructure."
Amtrak's shutdown of its Northeast Corridor after the Tuesday night derailment will cost New York's economy $100 million a day, de Blasio said. The U.S. spends 1.7 percent of its gross domestic product on infrastructure, while Europe invests 5 percent and China 9 percent, he said.
"The other countries get this, the impact on your economy when you're stuck in traffic or can't use the Amtrak lines, it's a mess," Cornett said. Voters in his city demonstrated their willingness to tax themselves and spend money on infrastructure, he said. In 2009, they approved a $130 million streetcar line.
In an op-ed column in Wednesday's New York Times, the two mayors said they assembled their coalition because on May 31, U.S. legislation supporting mass transit will expire. Also this year, the Highway Trust Fund, which provides about $50 billion a year, will run out of money to pay for road, bridge and transit projects.
Before it's here, it's on the Bloomberg Terminal.
LEARN MORE