The Provision In Obama's Trade Deal That's Drawing Conservative Ire
The criticisms could complicate support for the trade deal in the House.
by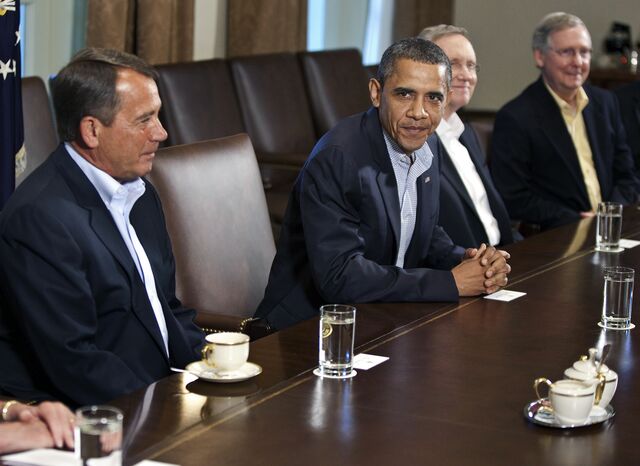 Pro-trade conservatives are expressing reservations with a component of President Barack Obama's emerging trade deal, a sign that it could be a heavy lift to cobble together the votes for it in the House.
The provision is known as Trade Adjustment Assistance, or TAA, a program to provide assistance and job training to American workers harmed by international trade. It is expected to be married with legislation to give Obama authority to fast-track a deal that would be later subject to Congressional approval. The Senate is expected to vote Tuesday to begin debate on that measure.
Heritage Action For America, the political advocacy group that carries sway with House Republicans, said it has always favored free trade but lambasted TAA as "an egregiously ineffective welfare program" that will exacerbate conservatives' concerns with granting Obama fast-track authority. "Conservatives should oppose any effort to combine these two bills," said Heritage Action CEO Michael A. Needham.
Three influential conservative economists endorsed the trade pact but elevated the concerns about TAA in a Monday op-ed, similarly suggesting that Republicans should strip it out of the bill.
"There is a legitimate worry that a final deal would get saddled down with billions of dollars for 'trade adjustment assistance' (TAA), which is welfare for the laid-off," wrote Larry Kudlow, Arthur Laffer and Stephen Moore in Investor's Business Daily. "But given that Democrats aren't likely to deliver many votes anyway, it's not clear why the GOP should swallow TAA costs as part of any deal."
The trade debate has created strange bedfellows, pitting the White House and Republican leaders such as Senate Majority Leader Mitch McConnell and House Speaker John Boehner against Democrats and progressives. The war of words between Obama, who has promised "the most progressive trade agreement in our history" and trade-wary Democrats such as Massachusetts Senator Elizabeth Warren has grown especially tense  in recent weeks.
The tricky balance for Republican leaders is that nixing TAA could alienate the few Democrats who support the trade deal, including Oregon Senator Ron Wyden, the top Democrat on the Finance Committee, and Washington Senator Patty Murray. But in the Republican-led House, social spending for the economically less well-off tends to be a tough sell.
McConnell acknowledged Tuesday that many members of his Republican caucus "have real reservations about TAA." But he said he ultimately expects that TAA "will be a part of the package the Senate sends to the House."
Utah Senator Orrin Hatch, the Republican chairman of the Finance Committee, said his party broadly dislikes TAA but described it as part of the compromise. "Look, we all hate TAA, most all of us Republicans," he said. "But that's the price of getting [Trade Promotion Authority], which is critical to trade all over the world."
Before it's here, it's on the Bloomberg Terminal.
LEARN MORE