New Hampshire Poll: Voters Strongly Favor Expanding Gay-Marriage Rights
Two-thirds of likely general-election voters, including about half of GOP primary voters, say same-sex marriage should be legal in every state, according to a new Bloomberg Politics/Saint Anselm New Hampshire Poll.
by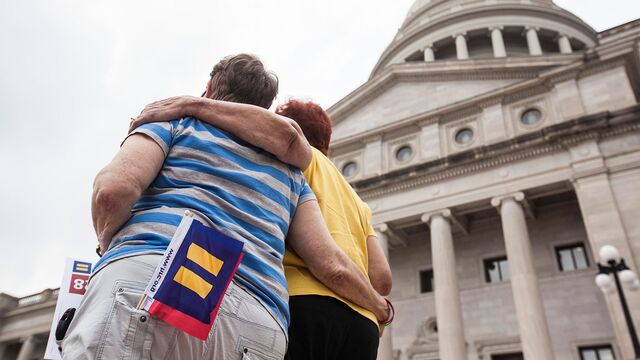 Opposition to gay marriage could present a liability for presidential candidates stumping for votes in New Hampshire. 
Two-thirds of likely general-election voters in the state that holds the nation's first presidential primary, including about half of Republican primary voters, say same-sex marriage should be legal in every state, according to a new Bloomberg Politics/Saint Anselm New Hampshire Poll.
Support was far greater among Democrats, with 85 percent of likely primary voters indicating that they favor expanding gay-marriage rights to every state, 8 percent opposing the idea, and 6 percent saying they were not sure. Among Republicans, 49 percent said they supported expansion. 
Read the poll questions and methodology here.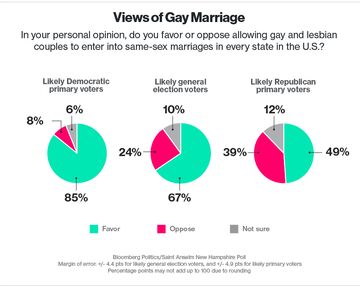 "I just think it's a question of basic human rights," said poll respondent Elizabeth Lund, 64, a nurse from Durham, N.H., who supports Democratic front-runner Hillary Clinton for president. "I think the more people are able to get married and have basic freedom, more people will become accepting of it. It will become more common and it won't be such a big deal."
The attitude may not be surprising in a state whose motto, "Live free or die," reflects deep support for personal liberty. New Hampshire in 2010 became the sixth state to allow same-sex marriage, and an attempt to repeal the law two years later failed in the legislature. 
Thirty-nine percent of likely Republican primary voters opposed extending gay-marriage rights nationwide and 12 percent said they were not sure.  
"I think it's just a matter of time until it's a part of our culture," said Nathan Rigoli, 43, a Republican who works as a manager in the hotel and restaurant industry and lives in Merrimack. "So, it won't even be an issue probably in the next election. Either the Supreme Court will decide it for us and it will be a moot point, or eventually all the states will pass it."
The nation's top court is expected to rule by the end of June in a case that could legalize gay weddings nationwide.
None of the Republicans who have formally declared their candidacy—Texas Senator Ted Cruz, Kentucky Senator Rand Paul, Florida Senator Marco Rubio, former Hewlett-Packard CEO Carly Fiorina, retired neurosurgeon Ben Carson, or former Arkansas Governor Mike Huckabee—have signaled support for extending gay-marriage rights to all 50 states. At least three likely or declared Republican candidates—New Jersey Governor Chris Christie, Rubio, and Fiorina—favor extending government benefits to same-sex couples bound by civil unions.
Both declared Democratic candidates, Vermont Senator Bernie Sanders and Clinton, the former secretary of state, support same-sex marriage. Sanders voted against the Defense of Marriage Act signed by President Bill Clinton in 1996, and said in a 2012 statement, "Our state was the first in the nation to allow gay marriage without a court order, but that doesn't mean gay Americans everywhere don't deserve to have their rights protected."
Hillary Clinton first backed gay marriage in 2013 and indicated support for a state-by-state approach in 2014. Last month, her campaign said she considers it a constitutional right.
The poll found that women were more likely than men to support extending gay-marriage rights to all 50 states. Seventy-one percent of women likely to vote in the general election favored doing so, compared to 62 percent of men.
Age was also a factor. Just over half of likely general-election voters who were 65 and older said they favored the expansion of gay-marriage rights, compared to more than three-quarters of those between the ages of 18 and 39. 
The poll, conducted May 2-6 by Washington-based Purple Insights, included 500 general-election voters as well as oversamples to include 400 Republican primary voters and 400 Democratic primary voters. It has a margin of error of plus or minus 4.4 percentage points on general-election questions and plus or minus 4.9 percentage points on primary questions. The margin of error in age and gender subgroups may be higher.
Before it's here, it's on the Bloomberg Terminal.
LEARN MORE