Hillary Clinton Remains Silent as Trade Deal Nears Senate Vote
As trade authority advocates seek 10 Democratic votes, pressure is building on Clinton.
by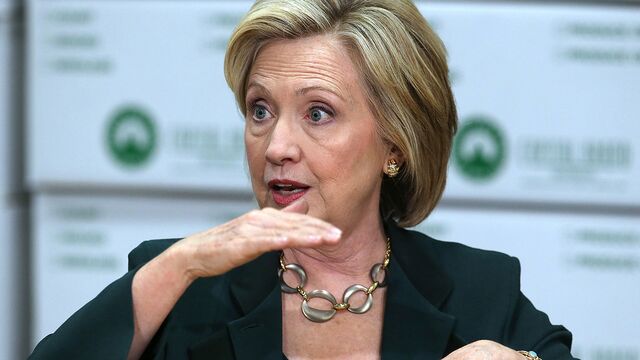 As Senate Democrats mull whether to vote for President Obama's trade agenda in a vote Tuesday, the leading presidential candidate from their party is maintaining her silence. 
Former Secretary of State Hillary Clinton, who has not answered reporters' questions in 21 days, has wavered in her opinion on trade over the years. On the pending legislation, she has remained largely quiet aside from a statement several weeks ago.
In April, Clinton spokesman Nick Merrill issued a statement simply saying that any deal would need to protect American workers and strengthen national security.
"She will be watching closely to see what is being done to crack down on currency manipulation, improve labor rights, protect the environment and health, promote transparency, and open new opportunities for our small businesses to export overseas," Merrill said.
In response to a shouted question from a reporter in New Hampshire last month, Hillary Clinton herself put it this way: "Any trade deal has to produce jobs and raise wages and increase prosperity and protect our security, and we have to do our part in making sure we have the capabilities and the skills to be competitive."
Senator Bernie Sanders, Clinton's only official competitor for the Democratic nomination so far, has been explicit about his opposition to the trade deal.
"I have voted against every disastrous trade agreement coming down the pike,'' Sanders said earlier this month.
For labor unions and other progressive groups, Clinton's position has left much to be desired.  
"We expect those who seek to lead our nation forward to oppose fast track," AFL-CIO President Richard Trumka said in a speech on April 28 without naming Clinton. "There is no middle ground, and the time for deliberations is drawing to a close."
Obama wants trade promotion authority, also known as fast-track authority, to write the Trans-Pacific Partnership, a trade deal with Asia, which he says is crucial to ensuring the America's role in the global market but some Democrats say would disadvantage American workers.
The legislation is coming to the floor Tuesday with a rare Republican blessing for the president's agenda, but Democrats close with labor and environmental groups could launch a filibuster, imperiling the bill and further pressuring the party's frontrunner, Hillary Clinton, to commit to the anti-Wall Street wing of the party.
Clinton has to balance competing demands in her approach to trade, which functions as something of a litmus test on her ability to court the economic progressives in the party, led by Massachusetts Senator Elizabeth Warren. Clinton will need their votes, organizing power, and financial support in her run. Senate Minority Leader Harry Reid, for instances, opposes the legislation, as does the AFL-CIO. Clinton challengers, including independent Vermont Senator Bernie Sanders, who is seeking the Democratic nomination, have used the trade issue to distinguish themselves and draw off backers. If Clinton takes up the anti-trade cause, however, she risks alienating her Wall Street donors and pro-trade moderates whose backing she'd need in a general election if she commits to the Warren wing.
In 1996, she said that the North American Free Trade Agreement, which her husband signed in 1993, was "proving its worth," and in 2004, she said that, "on balance NAFTA has been good for New York and America." In 2000, though, while running in New York for the Senate seat she later won, she had called it "flawed." In 2007, she called it a "mistake," and she voted against a Central American trade agreement in 2005.
As of Tuesday morning, the legislation's chances in the Senate were unclear. The Washington Post reported that few of the chamber's Republicans were expected to vote against trade authority, meaning the legislation would need around 10 Democrats to sign on to ensure the legislation's advocates would have the 60 votes needed to end a potential filibuster. The legislation would also need to pass in the House.
Before it's here, it's on the Bloomberg Terminal.
LEARN MORE