Harriet Tubman Wins Survey for First Woman on the $20 Bill
The grassroots organization Women on 20s released the results of its 10-week-long online survey as a U.S. senator seeks support in Congress.
by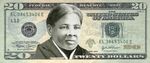 The online voters have spoken. On Tuesday, the grassroots organization Women on 20s released the results of its 10-week-long online survey to determine the woman who—it hopes—will be the new face on the $20 bill. Over 600,000 votes were tallied, and a victor declared: Harriet Tubman.
The group is marching its petition on Washington, at least electronically: Tuesday morning, it dispatched both written and video forms to the attention of the chair and executive director of the White House Council on Women and Girls (Valerie Jarrett and Tina Tchen, respectively), and the treasurer of the United States, Rosie Rios.
There is a kind of logic in the voters' choice to replace the face of President Andrew Jackson, a slaveholder, with that of Tubman, a woman born in slavery, who became a towering abolitionist. (The other three finalists were Rosa Parks, Eleanor Roosevelt, and Wilma Mankiller.) It might seem fitting, too, if an American banknote were changed to display an African-American woman during the tenure of the country's first African-American president. 
Last month, inspired by the Women on 20s group, and hoping to build further social-media momentum, New Hampshire Senator Jeanne Shaheen introduced the official Women on the Twenty Act to Congress. If the legislation passed, it would direct the Secretary of the Treasury to convene a citizen panel on the question.
On Tuesday, Shaheen congratulated Women on 20s on the progress of their campaign. "Thanks to this extremely successful grassroots campaign," she said in a statement, "the American people have sent a message loud and clear that the time is now to recognize the contributions of women on our paper currency. And that message is also being heard in Washington where my legislation to put a woman on the twenty dollar bill is gaining momentum. I hope the administration hears that message and takes action to place a woman on the $20 bill."
In an interview with Bloomberg last week, Shaheen spoke of some of the women she considered most important in her life—three daughters, two sisters, three granddaughters—and voiced her desire that parity will one day soon no longer be a movement, but a fact. Putting a woman on paper currency is about visibility, and symbolism. "Our currency," she said, "is a reflection of, literally, what we hold dear."
The Women on 20s campaign is also launching a new online initiative to push President Barack Obama to act, asking social media users to use hashtag #DearMrPresident. A "Virtual March," they call it it.
The movement may be closer to the White House lawn than they realize.
At a White House press briefing on Tuesday, according to the Washington Post, press secretary Josh Earnest said that Tubman was a "wonderful choice." He said that Obama knows of the campaign, but wouldn't say if the president supported the push to replace Jackson with Tubman. 
But last summer, speaking in Kansas City, Obama said that a little girl had written to him to ask why there were no women on American banknotes. "And then she gave me like a long list of possible women to put on our dollar bills and quarters and stuff," the president said. "Which I thought was a pretty good idea."
Before it's here, it's on the Bloomberg Terminal.
LEARN MORE