Getting to Know Jane Sanders, Wife of Bernie
The Vermont senator's wife could be a big asset during his presidential run.
by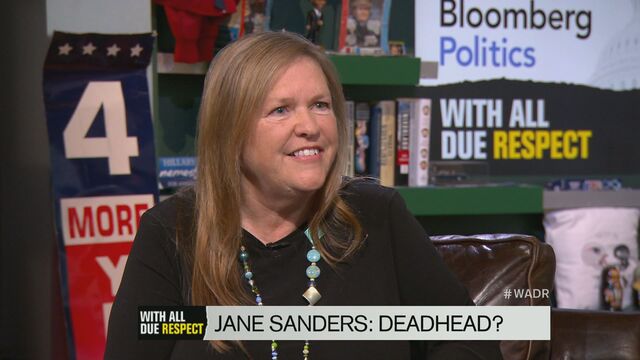 Former President Bill Clinton may be a powerful asset to his wife's presidential campaign, but Vermont Senator Bernie Sanders thinks he's got Clinton beat. 
 "I would love for him to be debating my wife, Jane. She's pretty smart," Sanders said of Clinton during a Monday interview with MSNBC's Andrea Mitchell. 
Mitchell had asked Sanders whether he was relieved by a report that Bill Clinton may not (yet) campaign for Sander's competitor in the 2016 Democratic race, Hillary Clinton. In a few spare words, Sanders managed to poke holes at a popular perception of a Hillary Clinton presidency—two for the price of one, approximately. The parallel reminded viewers what, on a certain level, Bill Clinton's work on his wife's behalf would be: the involvement of a prospective first spouse, who may or may not have much to do with the candidate's politics. Sanders's retort also opened up a question: What do we know about Mrs. Sanders?
Bernie met Jane, the woman who would be his second wife, in 1981, the night of his first mayoral victory. (He must have been in a pretty good mood that evening, considering the darn slim margins. According to Sanders's Senate website, "He was elected (by 10 votes) to the first of four terms as mayor of Burlington.") They married in 1988.
Bernie Sanders and Jane O'Meara grew up 15 blocks from each other in Brooklyn. Whereas Bernie grew up in an immigrant Jewish family, and spent time on an Israeli kibbutz, Jane went to Catholic parochial school. She was the youngest of Bernadette and Benedict O'Meara's five children, and the only girl. (She is younger than her husband by nine years.) Jane's father suffered from disability in her childhood, she told the Burlington Free Press in 1996. "Her social consciousness," the reporter noted, "was born watching how money—or lack of it—affected her father during a chronic illness." It affected her mother, too: she had to work. Jane told the BFP of her mom, "She convinced the kindergarten to take me at 3 years old. By 4, I was the teacher's assistant. Those years instilled in us the feeling we could get through anything."

Jane was an excellent student, winning a scholarship to an all-girls Catholic high school. After high school, she enrolled at the University of Tennessee at Knoxville. She spent a year and a half studying sociology and child development, then decided to start a family. With her new husband, David Driscoll, she moved back to Brooklyn and had children—which meant, the BFP noted, traveling "hours by subway to a hospital offering natural childbirth." As a young mother, Jane worked as a bank teller and a supermarket cashier, and she demonstrated against the war in Vietnam. The family moved to Virginia—"my plowing-fields-growing-everything-wok-cooking period," she told the BFP—but Jane objected to "the sexist way of life in that part of the South." It was a less than ideal place to raise little girls. In 1975, Driscoll got a transfer by his employer, IBM, and the family moved to Vermont. She has said, "I fell in love with it as soon as I stepped off the plane. The first winter I said, 'I'm leaving!' But the wonderful thing about Vermont is that spring follows winter, and you just forget it, and after four years, I don't know, I guess your blood thickens or something."
At Vermont's Goddard College, Jane finished her undergraduate degree, in social work. In the late 1970s, she and Driscoll separated. She took a job at the Burlington Police Department, in the Juvenile Division, then as a community organizer at the King Street Area Youth Center. And she helped pay off student loans as a VISTA volunteer.
It was during these years—the early 1980s—that Jane met her future husband, Bernie. She once described the encounter to a writer for an organization called the Vermont Businesses for Social Responsibility:
At that time the mayor's race was happening here in Burlington that Bernie was in. I went with the Neighborhood Organization folks to a meeting with the then Mayor and they asked questions. I didn't feel we were getting direct answers, so I started asking questions. They said, "You sound like Bernie Sanders now!" I sat down and said, "Who's Bernie Sanders?" They said, "He's running for mayor." I said, "Let's organize a debate."

So we did. He came, and everyone was swarming around him and the other candidates, because they weren't supportive of the mayor, so, being the good Catholic girl, of course I was very nice to the mayor and barely even said hell-o to Bernie. But when I heard him speak, well, that was it. The police department I was working with supported him after that, and he won 10 days later. We met at the victory party, and that was the beginning of forever.
Bernie had convened a task force on young people and families, to which Jane was selected as a representative. "So I was working for him actually before I'd even talked with him," she has said. Before he was even mayor.
In the 1980s, Jane helped start a newspaper, a teen center, after-school programs, and a day care. She also launched a festival called Kid's Day. The couple married toward the end of the decade. The day after their wedding, they marched in a parade, then hopped a plane to Russia—a trip to a sister city they had helped set up. "Yaroslovl with 10 other people on my honeymoon," Jane once joked.
In 1990, Bernie Sanders was elected to the U.S. House of Representatives. This meant a move to Washington. "Everybody just assumed that I would go also," Jane Sanders said. But she didn't want to leave her work. She waited a half-year, and then began to make the journey. "I stepped into a completely different world in Washington," she told the BFP, "where people wear Chanel suits. I fit in better with the congressmen than their spouses."
The balance was hard to come by. Jane said, "There are two choices: Live in your home state and have a weekend marriage or move to D.C. and possibly give up your job and uproot your children. When your spouse becomes a congressperson, you have to adjust your entire life if you want to stay married."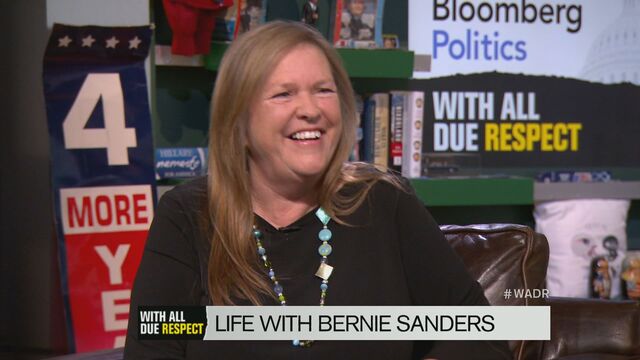 She became increasingly active in her husband's policy work in Washington. She also decided to go back to school to get a doctorate. In 1996, Jane was recruited to lead Goddard herself. A reporter writing that year about the appointment notes a Grateful Dead dancing bear on her computer screen. Bernie celebrated his wife's new position, but lamented the change. He said, "Obviously Jane has played an important role in the congressional office. Yes, she is a soulmate, a sounding board. What will be lost is that day-to-day input. Of course there will be a hole when she leaves, but she hasn't gone off the face of the planet."
She continued to be involved. In 2000, Robin Toner of the New York Times wrote that Jane "has been a key adviser in [Bernie's] political career."
In 2004, Jane was named president of Burlington College, a small, alternative school in Burlington, Vermont. Burlington began in 1972 as the Vermont Institute of Community Involvement, a place to educate non-traditional college-aged students like Vietnam war veterans—or Jane.
In 2006, Bernie was elected to the U.S. Senate, representing Vermont.
In 2011, Jane stepped down from the Burlington College presidency, amid speculation of an uneasy relationship with the school's board of directors. Last fall, an ad funded by a Vermont businessman named Skip Vallee attacked her for what the ad called a $200,000 "golden parachute" she received upon leaving.
Bernie's response to the "smear campaign" was quoted by WCAX, a Burlington-based news site. His statement read: "Bernie Sanders will not be intimidated by a millionaire who has crawled into the gutter and bought TV ads attacking Bernie's wife for a sabbatical she earned from a college where she was president for seven years." Otherwise, Jane has stayed largely out of the news.
In the VBSR interview conducted in 2007, halfway through her tenure at Burlington, Jane spoke of some of her foremost concerns, as an educator and administrator, and as a citizen: the cost of education ("we are one of the only industrialized nations in the world that doesn't give some kind of strong support to higher education, that considers that that is a necessity"), the need for job training, and of the strength of worker's unions in countries like Ireland and Sweden.
"I have a lot of ideas for the state!" she said then, a notable refusal to refuse to talk policy. She brought up health care, broadband connectivity, energy, infrastructure. That day, she sounded a bit like her remarkably consistent husband talking about the Trans-Pacific Partnership on MSNBC on Monday. "For me," Jane Sanders said, "the focus has to be on the individual, the worker, not on profit margins, not on stock returns, but on how do we have a wonderful community in the State of Vermont that has good jobs that keep our kids here and keeps our communities healthy."
Before it's here, it's on the Bloomberg Terminal.
LEARN MORE