Columbia Gets Obama Foundation Presence; Library in Chicago
John McCormick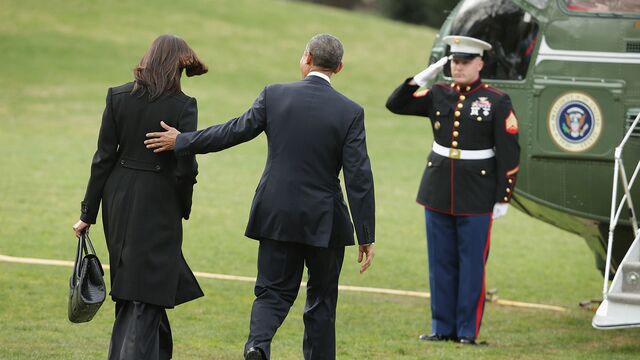 Barack Obama made it official Tuesday: His presidential library and museum will be built in Chicago while his foundation will have a presence at Columbia University in New York.
"Not only will we be able to encourage and affect change locally, but what we can also do is attract the world to Chicago," Obama said in a video with his wife on his foundation's website. "The lessons that I learned, they're all based right in this few square miles where we'll be able to now give something back and the bring the world back home after this incredible journey."
Chicago, New York and Honolulu in Obama's home state of Hawaii competed to host the library, to be built after the 44th president leaves office in January 2017. The dual-location arrangement may fuel speculation that, after leaving the White House, the president and first lady Michelle Obama will spend as much or more time in Manhattan as they do in Chicago as he carves out a career after eight years in the White House.
The library will be associated with the University of Chicago, where Obama taught law school in the city where his political career began. While his foundation will have offices in Chicago, it "intends to maintain a presence at Columbia University" where Obama graduated from in 1983, and will "work with the state of Hawaii to establish a lasting presence in Honolulu," according to a statement from the foundation.
Economic Benefits
"Throughout the selection process, the Barack Obama Foundation has indicated its interest in an academic collaboration," Lee C. Bollinger, Columbia's president, said in a statement. "We look forward to hosting the foundation on our campus and take great pride in being part of the post-presidency of our alumnus."
The Chicago decision became public weeks ago, as news outlets quoted officials who insisted on anonymity. The move "creates major opportunities for the South Side and the city of Chicago," University of Chicago President Robert J. Zimmer said in a statement.
The presidential center's exact location will be decided in the coming months. Two sites -— one in Jackson Park and one in the Washington Park area -- are still being reviewed by the foundation. The foundation also plans to collaborate with the University of Illinois – Chicago, another unsuccessful finalist for the library.
"The Obama Presidential Library is a once-in-a-lifetime opportunity that will bring tremendous cultural, economic, and educational benefits to the South Side and the entire city of Chicago for generations to come," Mayor Rahm Emanuel said in a statement.
'Great Pride'
Obama moved among Honolulu, Jakarta, Los Angeles and New York, all before he was 21. Before his inauguration, he told the Chicago Tribune in December 2008 that he planned to return often.
"We're going to try to get back here at least once every six weeks or couple months," he said.
That never happened, as Obama came to know the reality of the presidency, both its comforts and demands.
Kwame Raoul, a Democrat who holds the state Senate seat on the South Side that Obama once did, said securing the library is more important than seeing the Obamas live full-time in Chicago after leaving 1600 Pennsylvania Avenue.
"Given that they are going to be ex-president and ex-first lady, where their so-called permanent home is seems less relevant," he said.
Eric Schultz, a White House spokesman, declined to comment on speculation about where the Obamas might live.
Raoul, who lives three blocks from the Obama home in the Kenwood neighborhood, said their absence would bring advantages.
"I would guess that they'll sell the house. They probably could get a Chicago condo or something like that," he said. "Every time they visit, it's a little bit of a traffic nightmare in the neighborhood."
Before it's here, it's on the Bloomberg Terminal.
LEARN MORE