Christie Says N.Y. Jets Should Hand Back Fee for Troops Salute
Elise Young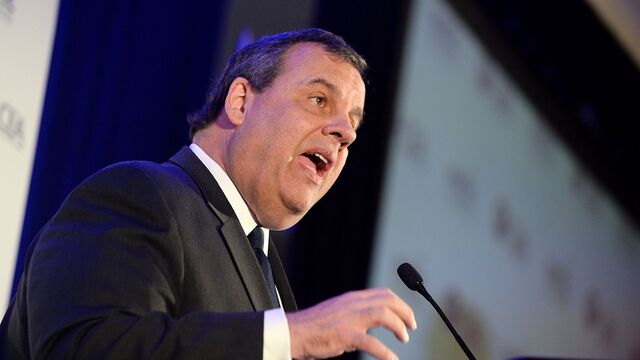 New Jersey Governor Chris Christie said the New York Jets football team should return more than $375,000 paid by the U.S. Defense Department for honoring military personnel at games.
"We should be saluting the troops because of what they do for our country," Christie, a 52-year-old Republican, told Jake Tapper of CNN Tuesday in a televised interview. The Jets play in MetLife Stadium in East Rutherford, New Jersey.
"If we're actually paying the New York Jets franchise for saluting the troops, then that would be very disappointing," Christie said.
Christie, in New Hampshire to meet potential voters as he considers a 2016 presidential run, also criticized the National Football League's four-game suspension of Tom Brady, the New England Patriots quarterback.
A report by attorney Ted Wells, hired by the league to investigate whether game balls were deflated to the team's advantage in this past season's playoffs, concluded that "it is more probable than not" that Brady had some knowledge of equipment tampering. Brady, whose team defeated the Indianapolis Colts in the AFC Championship and then went on to win the Super Bowl, has denied any involvement.
"On this one it's just an overreaction," Christie, a Dallas Cowboys fan, said. "It has something to do with the fact that he's wealthy and handsome and famous and successful and I think people like to take shots at people like that."
His criticism of the Jets was in response to a May 7 article on the news site NJ.com, which reported that the federal government has given $5.4 million in taxpayer money to 14 National Football League teams for game-time segments.
The Jets were paid $377,500 by the New Jersey Army National Guard for such displays as "Hometown Hero" profiles thanking soldiers, the site reported, citing public records. It quoted guard spokesman Patrick Daugherty and team spokesman Bruce Speight as saying the contracts were part of recruitment and advertising and marketing programs.
The team went 4-12 in its regular season last year and fired coach Rex Ryan.
Christie questioned whether such spending should be a priority.
"That's a decision for the government to make, whether they should be paying for that kind of advertising," he said.
Before it's here, it's on the Bloomberg Terminal.
LEARN MORE