Ben Carson Invokes Dred Scott Decision as Precedent for Ignoring Supreme Court Rulings
The retired neurosurgeon and presidential candidate defends his radical argument against judicial review.
by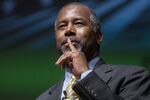 Republican presidential candidate Ben Carson raised eyebrows last week when he told Newsmax that a potential Supreme Court ruling to legalize same-sex marriage across the country would not have to be implemented, because "the laws of the land come from the legislative branch."
It's not a commonly held opinion, given that the high court has long asserted the right to invalidate laws it deems unconstitutional, and no other presidential candidate has suggested that the court's ultimate ruling on same-sex marriage could be ignored.
During a Republican gathering Saturday in Greenville, S.C., Bloomberg asked Carson to explain his assertion.
"Probably the best thing to do is go back and read about the Dred Scott case," Carson responded, referring to the 1857 case in which the Supreme Court validated slavery; today it is widely viewed as the worst ruling in the Court's history. "And as you know, President Lincoln wasn't too much in favor of that. And his policies indicated that. Clearly it created a lot of division. We ended up fighting a war over it but in the long run it was the right thing to do."
"What I would really love to see, as the Constitution states, civil matters being taken care of in the state and the states," he said, arguing that the Founding Fathers did not want such decisions to be made by "people who have no obligation to the citizens whatsoever."
Carson would not say if he wants to overturn judicial review, the doctrine established in the 1803 case Marbury v. Madison, giving the high court the final word on whether laws are constitutional.
Before it's here, it's on the Bloomberg Terminal.
LEARN MORE