Warren Critique Deepens Trade Spat Between Obama, Democrats
Mike Dorning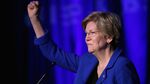 A rift widened between President Barack Obama and liberal Democrats in Congress over trade as he and Senator Elizabeth Warren renewed their gripes a day before a key vote on a potential deal with Pacific nations.
Warren disputed assurances Obama has given on the Trans-Pacific Partnership agreement, warning of dangers to consumer, health and labor protections in U.S. law under potential trade deals. She argued that fast-track negotiating authority Obama seeks would help Wall Street roll back rules imposed on banks after the 2008 financial crisis.
Her remarks, in a Washington Post interview published Monday, came after Obama called her "absolutely wrong" and said she and other Democratic opponents of the trade deal were living in the past.
Democratic opponents of the agreement have focused on maintaining protections for workers and consumers. Warren has argued that Obama's successor might use the trade promotion authority to undermine the Dodd-Frank financial regulatory law by including provisions to harmonize capital standards or leverage ratios in a way that helps big banks.
Legal Matter
As a matter of law, Warren is correct that a trade deal approved under fast track could override U.S. laws, including Dodd-Frank, though a future president and Congress would have to approve the pact, said Laurence Tribe, a constitutional law professor at Harvard Law School.
"Any duly ratified treaty overrides any contrary prior federal legislation," Tribe said.
Obama has dismissed concerns about undermining U.S. regulations as hypothetical and speculative.
Gary Hufbauer, a senior fellow at the Peterson Institute of International Economics, said he doesn't think a future Congress would agree to a trade deal that rolls back financial regulations or other protections. The fast-track legislation requires congressional oversight of trade agreements, including allowing members of Congress to have a seat at the negotiating table, he said.
"I guess Senator Warren has no confidence in her colleagues that they wouldn't raise a huge storm if one of these hypotheticals that she's imagining is slipped into a future negotiating pact," Hufbauer said.
Seeking Support
Obama has struggled to gather support from more than a small minority of congressional Democrats to win what's called trade promotion authority for the Asia-Pacific deal. The Senate is scheduled to hold a procedural vote Tuesday on legislation to grant Obama fast-track powers to negotiate the pact.
The fight flips Washington conventions. A president who during his time in office has had to rally his party against a virtually unified Republican opposition is now sending handwritten notes to Senate Republican Leader Mitch McConnell of Kentucky while trading barbs with Warren and other Democrats.
The outcome of the debate may have implications for the 2016 presidential race. While Republicans generally have favored free-trade pacts, some factions aligned with the Tea Party have criticized the trade authority Obama is seeking. Former Secretary of State Hillary Clinton, the leading contender for the Democratic presidential nomination, has stayed out of the debate so far.
Tuesday Vote
The fast-track trade legislation faces a test on Tuesday, with opponents able to block Senate consideration if they can muster 41 votes against proceeding to the bill. Seven Democrats voted in the Senate Finance Committee to approve the legislation, suggesting opponents won't be able to stall it.
Obama may need as many as 30 Democratic supporters in the House, where passage isn't assured.
Warren, who commands a loyal following in the party's liberal wing, said in the Washington Post interview that fast-track legislation would prevent Democrats from blocking agreements a future Republican president negotiates that undermine the Dodd-Frank law.
Under fast-track authority, trade deals negotiated by the president for as many as six years would be guaranteed an up-or-down majority vote without amendment. The minority party in the Senate wouldn't be able to filibuster the pact.
"Whatever the Obama administration has committed to won't bind the next president," Warren said in the Post interview. "If that president wants to negotiate a trade deal that undercuts Dodd Frank, it will be very hard to stop it."
Obama brushed aside Warren's criticism in an interview Saturday with Yahoo News as "all hypothetical, speculative."
Obama, who signed the Dodd-Frank financial regulations into law, said he'd "have to be pretty stupid" to agree to a trade deal that would undermine them.
"The truth of the matter is that Elizabeth is, you know, a politician like everybody else," he told Yahoo News. "And you know, she's got a voice that she wants to get out there. And I understand that."
Before it's here, it's on the Bloomberg Terminal.
LEARN MORE