The Story (and Meaning) Behind the Rand Paul Camera-Licker
If you can't beat 'em, lick 'em.
by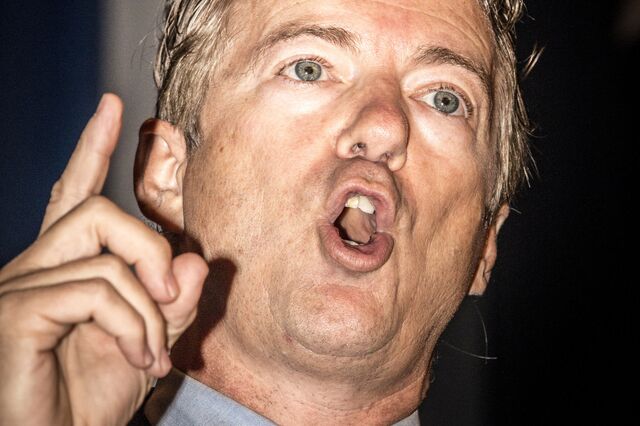 American Bridge's roving New Hampshire tracker, whom the oppo group refers to only as "Justin," is not one of the Rand Paul campaign's favorite people. Since late 2014, when I started covering Paul's visits to the first presidential primary state, I have seen the bearded tracker show up, silently march up to the press registration table at an event, and be turned away. 
I have seen him film a hotel dining room through the small glass section of a closed door. I have seen him ushered out with his gear into the snow outside of a hunting lodge, where he filmed through a closed windowpane. Every time, he has looked to be heartbreakingly close, yet forever removed, from the action. Anyone who has seen Beetlejuice, and recalls the dimension of exorcised spirits, will be able to conjure the image.
Until today, that is. Today, American Bridge released a video that it—and reporters, who initially missed the action—called "Lick Free or Die." In it, a man who closely resembles The Wire's lawyer Maurice Levy blocks a camera with his face, then leans in and licks the lens, ostensibly to ruin the shot.
It's safe to say that the shot was not ruined. The video went viral immediately, and has been described as a "Rand Paul staffer licking a tracker's camera." This is an apt description, but it reflects months of pent-up aggression and hopelessness.
The staffer is David Chesley, Paul's New Hampshire political director. He joined the team officially when Paul's campaign began, but before that, it had been up to him to march up to the tracker and inform the people checking in reporters that, no, this guy was not to be allowed in. On Monday, Chesley made that clear to the tracker, who headed outside with a gaggle of reporters attempting to grab a moment with Paul. When the senator showed up, delayed by a meeting, the gaggle stuck to him liked chewed gum, and the tracker was able to make it into the mid-sized room where TV cameras would be filming Paul. After that: The licking.
The Paul campaign is not unique in the practice of ejecting trackers. Recently, at a gun range where Texas Senator Ted Cruz was set to speak, one tracker was turned away, and I took my place close to Cruz, shooting video of some of his remarks. An (armed) employee walked over to me to whisper, in his best imitation of Charles Bronson: "Weren't you asked to leave?" It took a business card to prove that I was not, in fact, the tracker who somewhat resembled me, but the lesson was clear: People who worked for political organizations that collected video of campaign events were not welcome.
After today, the question is why. Paul's event was not newsless, but nothing made as much news as the licking. If the licking was meant to stop raw video from escaping the room, that was a doomed plan. At least one reporter Periscoped the event, which allowed almost anyone to watch the event in real time, Internet connection willing. It didn't seem as though any voters were live-streaming, but they could if they liked. Last week, in Iowa, I covered two Mike Huckabee events where fans of the former Arkansas governor aimed (respectively) an iPad and iPhone at him, and Periscoped everything. In South Carolina, I saw a tracker losing some good angles of a Ted Cruz meet-and-greet, while voters there to see him lifted their phones and hit "record."
The intent of the voter and the intent of the tracker are at opposite ends of a political-news spectrum. The voter wants to capture something awesome; the tracker wants to capture something brutal and damaging. Yet video is video, if it's all uploaded. The most damaging candidate video of 2014, which captured Iowa Representative Bruce Braley saying that the country did not need "a farmer from Iowa who never went to law school" running the Judiciary Committee, was uploaded by a supporter who did not recognize fissile material when he saw it. Many news-guzzling videos of congressmen at town halls are captured by constituents, and found later by reporters. The universal availability of cheap, clear video recording might have ruined the political campaign as we know it. But it did that without trackers.
In any case, the problem at today's event in Londonderry was not the presence of a camera but the fact that the camera was licked. According to Paul advisor Doug Stafford, Chesley will continue working with the campaign. According to Ben Ray, a spokesman for American Bridge, trackers will soon be supplied with this.
Before it's here, it's on the Bloomberg Terminal.
LEARN MORE