Obama Plugs Entrepreneurs With Democratic Ties as Cuba Opens
Angela Greiling Keane and Toluse Olorunnipa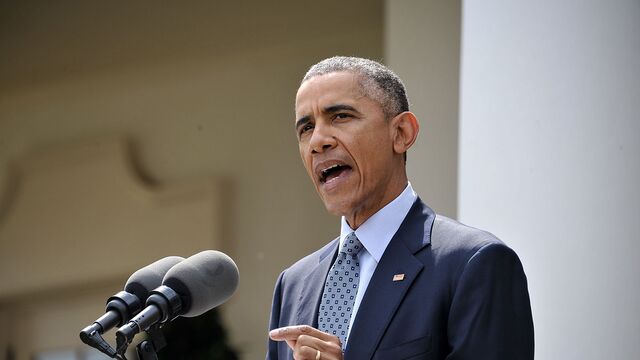 The founders of some of America's hottest startups met with President Barack Obama at the White House Monday as he prepares for a trip to Africa to promote entrepreneurship.
Executives from companies including Airbnb Inc., Theranos Inc. and Kind LLC, some of them contributors to Democratic politics, will be asked to help raise as much as $1 billion to finance startup companies in developing parts of the world. Obama plans to attend the Global Entrepreneurship Summit in Nairobi in July.
"Encouraging the spirit of entrepreneurship can help us tackle some of the greatest challenges around the world," Obama said at the White House.
Entrepreneurs can help limit climate change, combat disease and lift people from poverty, Obama said. Small business development in these countries also can counter the influence of Islamic extremist groups, he said.
Democratic fundraisers in the group were led by Daymond John, a star of the TV show "Shark Tank" and chief executive officer of Fubu, a men's clothing line. He gave $4,600 to Obama's first presidential campaign in 2007, according to the nonprofit Center for Responsive Politics.
Talent, Opportunity
Julie Hanna, chairman of microlender Kiva, said Obama focusing on boosting small entrepreneurs will make a difference because of the power of the White House's attention.
"The red thread in all of my work and certainly Kiva's is that talent is universal but opportunity is not," Hanna said in an interview at the White House. "We all have that entrepreneur's instinct. It's just been nurtured more in some of us."
Hanna said her political involvement stops and starts with voting and participating in marches for causes. Her 10-year-old company lends both in the U.S. and abroad with international loans averaging no more than $500 for terms of less than a year.
Among the donors named as presidential ambassadors for global entrepreneurship is Brian Chesky, co-founder of house-sharing service Airbnb, who has contributed to Senator Cory Booker, a New Jersey Democrat, and to the New Jersey Democratic State Committee. Another donor is Antonio Gracias, chief executive officer of Valor Equity, who splits his donations between Democrats including Obama and Hillary Clinton and Republicans including Ron Johnson, a Wisconsin senator.
No Surprise
The inclusion of supporters in such projects isn't unusual.
"If you look back at the events during the Bush years, you would find more Republicans than Democrats," Viveca Novak, a Center for Responsive Politics spokeswoman, said in a telephone interview. "Ideally you would have a balance, but if you have a slight or greater dominance it's not too surprising."
U.S. businesses have already begun moving into under-developed Cuba since Obama loosened restrictions on their operations in the Caribbean dictatorship. Airbnb's Chesky said Cuba is the company's fastest-growing market.
"Forty days ago we launched in Cuba, we launched with 1,000 homes in Cuba -- today we now have 2,000 homes," he said in an interview Monday. "I don't think we've ever had a market grow as fast as Cuba."
Kiva, too, is looking at expanding into Cuba.
"Because of how resource-constrained Cuba has been, there is a very strong entrepreneurial drive," Hanna said. " Access to capital could make a big difference."
Cuban Operations
San Francisco-based Airbnb last month became one of the first U.S. companies to begin operations in Cuba after Obama and Cuban President Raul Castro said in December they would restore diplomatic ties after more than 50 years. While Americans still are banned from visiting Cuba as tourists, the policy changes remove several restrictions on travel and trade between the two countries.
During a meeting with Castro in Panama last month, Obama said he would urge Congress to end the five-decade trade embargo against Cuba.
"President Obama has a desire to bring these two communities together -- Americans and Cubans," Chesky said. "What better way to bring them together than actually in their homes?"
Before it's here, it's on the Bloomberg Terminal.
LEARN MORE