Marco Rubio Pushes Extension of NSA Phone Metadata Program
The Republican presidential candidate and senator says the risk of a terrorist attack in the United States is at a post-9/11 high.
by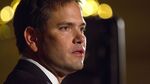 Republican presidential candidate Marco Rubio continued his tough talk on national security on Sunday, saying the risk of a terrorist attack in the United States is at a post-9/11 high.
Arguing for an extension of the National Security Agency's phone metadata program in light of threats like those from the Islamic State, the Florida senator wrote in a USA Today op-ed, "The government is not listening to your phone calls or recording them unless you are a terrorist or talking to a terrorist outside the United States." He added, "There is not a single documented case of abuse of this program."
His comments follow a Saturday appearance at the South Carolina Freedom Summit, where he emphasized a hard line on terrorism. "Have you seen the movie Taken? Liam Neeson. He had a line, and this is what our strategy should be: 'We will look for you, we will find you, and we will kill you,'" said Rubio, who sits on the Senate Foreign Relations Committee and Select Committee on Intelligence, at the cattle call for White House hopefuls.
As Bloomberg's Bob Van Voris reported last week, a recent federal appeals court ruling against the data collection comes as the Patriot Act's Section 215, "under which intelligence agencies have justified the phone surveillance, is set to expire June 1 unless Congress passes a bill backed by Senate Republicans to extend it through the end of 2020. Because the court didn't rule on the program's constitutionality, lawmakers could choose to amend the act to explicitly authorize the data collection."
Before it's here, it's on the Bloomberg Terminal.
LEARN MORE