Jeb Bush Says He Wouldn't Repeal Obama's Immigration Actions Right Away
The former Florida governor says Republican primary voters can be persuaded on immigration.
by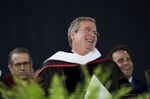 He may be a staunch critic of President Obama's executive orders on immigration, but Jeb Bush wouldn't rush to repeal them if he's the next White House resident. 
In an interview scheduled to air Monday night on Fox News, Bush suggested that he would wait until a new law was in place before overturning Obama's actions.  
Noting the political difficulty of repealing the orders, host Megyn Kelly asked Bush how he would go about undoing them. "Passing meaningful reform of immigration and make it part of it," Bush answered, according to a transcript of the interview. The interview will air in full on The Kelly File at 9 p.m.
Bush, who hasn't yet formally entered the presidential race, also defended his support for giving undocumented immigrants driver's licenses and their children in-state tuition, saying, "If you've been here for an extended period of time, you have no nexus to the country of your parents."
"What what are we supposed to do? Marginalize these people forever?" Bush said.
Bush insisted that his support for providing undocumented immigrants a path to legalization wouldn't be a deal-breaker for voters in the GOP primary, saying Republican voters "can be persuaded." Bush suggested he's showing stronger leadership than the rest of the field by defending his position, which includes strengthening border security, limiting those who can immigrate because of family ties, and expanding the number of immigrants who come for economic reasons.
"Do you want people to just bend with the wind, to mirror people's sentiment whoever is in front of you?  Oh, yes, I used to be for that but now, I'm for this.  Is that the way we want to elect presidents?" Bush said. 
Bush has regularly criticized Obama's executive actions on immigration, saying the Democrat exceeded the constitutional authority of the nation's highest elected office, and has promised to repeal those changes, including one that protects those brought to the country as children, if he's elected president. But Bush, who is married to a Mexican American woman and supports legalizing many of the 11 million undocumented workers in the country, hasn't said whether he'd make those changes without Congress first passing a comprehensive immigration bill. Such a move, which House Republicans supported last year, would put millions of otherwise law-abiding immigrants at risk of deportation.
Before it's here, it's on the Bloomberg Terminal.
LEARN MORE