Jeb Bush Mocked Over Iraq Do-Over Answer
The former Florida governor finds himself under attack for saying he would still authorize the 2003 invasion to topple Saddam Hussein.
by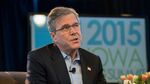 Jeb Bush's critics agree: The former Florida governor's hindsight is anything but 20/20. 
Interviewed on Fox News, host Megyn Kelly asked Bush whether he would, "knowing what we know now," have ordered the 2003 invasion of Iraq. 
"I would have [authorized the invasion], and so would have Hillary Clinton, just to remind everybody. And so would almost everybody that was confronted with the intelligence they got," Bush replied, according to an excerpt released prior to Monday night's broadcast. 
Though Bush essentially sidestepped Kelly's hypothetical, his answer drew sharp rebukes from conservatives and liberals alike, and served to underscore one of the prospective presidential candidate's weaknesses: his association with his brother's policies. 
At the American Conservative, for instance, Daniel Larison wrote: 
"The fact that Bush can't begin to grasp that the original, irredeemable error was the invasion itself tells us all that we need to know about his appallingly bad foreign policy judgment. It gives everyone fair warning that he would make the same sort of disastrous blunder if presented with the opportunity. That alone proves him to be unfit for the presidency."
Conservative radio host Laura Ingraham was equally hard on Bush, saying "there has to be something wrong with you" to hold the opinion that the invasion was  worth repeating. Ingraham even took issue with his assertion that Clinton would, in retrospect, do the same. 
"No, Hillary wouldn't!" Ingraham said during Monday's radio show. "Hillary wouldn't authorize the war now, if she knew what she knows now."
Writing for the Washington Examiner, Byron York concurred with Ingraham.
"As for whether Hillary Clinton would have authorized the invasion 'knowing what we know now'—it's hard to believe that Jeb Bush is serious when he says she would. Of course she wouldn't," York wrote. "Nor would others involved in the decision."
Moreover, York concluded, if Bush doesn't revise his own answer, "it will represent a step backward for the Republican Party." 
Democrats, meanwhile, pounced. The Democratic National Committee wasted little time in employing Bush's response in a new web ad that argued the two brothers were indistinguishable when it comes to foreign policy.
Before it's here, it's on the Bloomberg Terminal.
LEARN MORE