Saudi King Will Skip Obama's Gulf Nations Summit in U.S.
David Lerman and Terry Atlas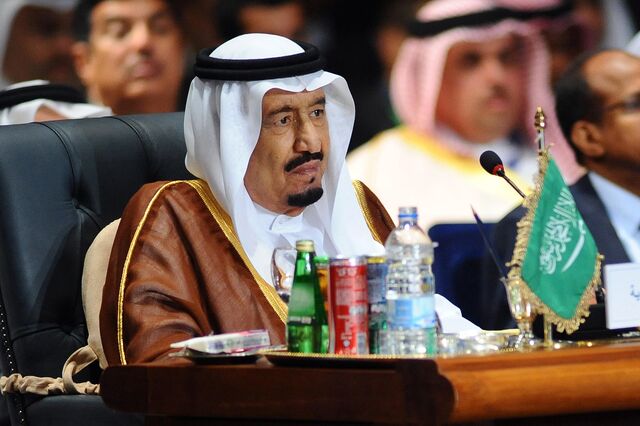 Saudi Arabia said its new king won't attend this week's long-planned summit for Persian Gulf countries at the U.S. presidential retreat, in what may be a sign of frustration with Washington over its Iran policy.
King Salman's decision to stay home comes as President Barack Obama's administration is trying to restore the flagging confidence of Gulf Arab leaders in U.S. leadership. The decision produced reports that the Gulf leaders had snubbed Obama.
"Nothing could be further from the truth," Marie Harf, a State Department spokeswoman, told reporters in Washington. "We never expected every head of state would attend. We believe the right mix of people will be there."
Bahrain also announced that its king wouldn't be attending Obama's meetings with members of the Gulf Cooperation Council.
The Saudi king had accepted an invitation to meet with Obama on Wednesday at the White House "to build on their close consultations" on a range of issues and then attend the summit at Camp David in Maryland on Thursday, White House spokesman Eric Schultz said at a briefing on Friday.
Saudi Foreign Minister Adel bin Ahmed Al-Jubeir instead issued a statement Sunday saying the king won't visit "due to the timing of the summit, the scheduled humanitarian cease-fire in Yemen and the opening of the King Salman Center for Humanitarian Aid."
From Oil to Israel
Tensions between the U.S. and the Sunni Arab nations can affect interests from the stability of the region that holds the world's largest oil reserves to the security of Israel, the war against Islamic extremism and the ability of U.S. defense contractors to compete for sales with European, Russian and Chinese competitors.
Salman will send Crown Prince Mohammed bin Naif, the deputy prime minister and interior minister, and Deputy Crown Prince Mohammed bin Salman, the defense minister, according to the Saudi statement. The delegation from Bahrain, home to the U.S. Navy's 5th fleet, will be headed by Crown Prince Salman bin Hamad Al Khalifa, according to a statement by the Royal Court.
Possible Snub
Among those saying that Salman's absence could be seen as a snub to Obama's administration was Jon Alterman, director of the Middle East program at the Center for Strategic and International Studies in Washington.
"The king's decision suggests that, despite all of this, he thinks he has better things to do with his time," Alterman said in an e-mail.
The White House learned of the decision Friday night and confirmed it on Saturday, said an administration official who offered a statement on condition of anonymity to discuss private conversations. The official denied the move was the result of any substantive issue.
Salman, 79, was crowned king in January following the death of his half brother, King Abdullah.
Iran Negotiations
Relations between the U.S. and Saudi Arabia have been strained as the U.S. and other world powers seek a deal to curb Iran's nuclear program. Saudi Arabia and other Gulf states have been concerned that the U.S. is being too accommodating toward Shiite Iran.
Alterman said the summit could nonetheless serve as a good opportunity for Obama to get a better understanding of Prince Mohammed bin Salman.
"The very young minister of defense has amassed more power more quickly than anyone in the history of Saudi Arabia, but he remains largely unknown outside the kingdom," Alterman said.
Shifting Power
One political scientist downplayed the idea that Saudi Arabia was staging a protest. The two Saudi princes heading to Camp David "control everything. Not a snub. Salman reigns, they rule," Barnett Rubin, a senior fellow at New York University's Center on International Cooperation, said on Twitter.
Coming into the summit, the Gulf states see a pending nuclear deal shifting the balance of regional power in favor of Iran as economic sanctions are lifted, and they have grown uncertain about the U.S. role as their security guarantor.
There is a "very deep lack of trust" in this administration "after six years of empty promises, hesitation, indecisiveness" in response to the region's crises, said Mustafa Alani, an analyst at the Gulf Research Center in Geneva.
Arab apprehension about Obama has been growing for years, fueled by his decision to abandon President Hosni Mubarak of Egypt, tepid support for moderate Syrian rebels and the president ignoring his own "red line" against chemical weapons use by the Assad regime in Syria.
"There's some tension and certainly higher expectations than the U.S. can or should deliver" in cases such as Syria, said Marcelle Wahba, a former U.S. ambassador to the United Arab Emirates who's president of the Arab Gulf States Institute in Washington.
Before it's here, it's on the Bloomberg Terminal.
LEARN MORE