Mike Huckabee Defends His Support for Social Security
The former Arkansas governor argues that the government should not make changes to the system for those who have already been paying into it.
by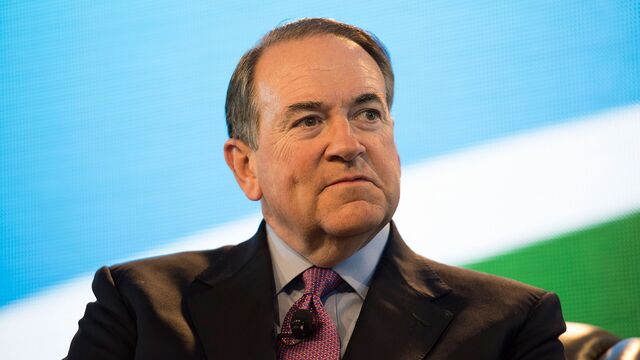 Republican presidential candidate Mike Huckabee on Sunday reaffirmed his stance that Social Security needs to be preserved, a viewpoint that sets him apart from some of his GOP rivals. 
Huckabee included Social Security in his platform of priorities when he announced his candidacy on Tuesday in Hope, Arkansas. CBS Face the Nation host Bob Schieffer commented that the position made Huckabee sound a bit like a Democrat. 
"Well, I think I sounded more like an American," Huckabee said. "I sounded like an American who understands that people have been paying in in my case since I was 14 years old when I got my first job, people pay into a system for 50 years."
Huckabee conceded that if the current Social Security system is unsustainable, reforms may be necessary, but argued that they should affect only people who are new to the workforce. 
"About the only way we can really make these reforms is to hurt somebody," Huckabee said. "I don't think Americans believe that after having paid in all these years, again, not a choice, wasn't voluntary, it was forced out of their checks that somehow, the government who didn't take good care of business can come in and say, 'Yep, we're gonna make you end up paying for our sins.'"
Many of Huckabee's competitors and potential competitors have already come out in support for changes to Social Security. Last month, possible candidate New Jersey Governor Chris Christie unveiled a suite of reforms the would campaign on, including reducing Social Security payouts for senior citizens earning more than $80,000 a year and cutting them off entirely for those earning more than $200,000. Wisconsin Governor Scott Walker, another possible candidate, also signaled that he would support reforms in a statement to Talking Points Memo. Potential candidate Jeb Bush, the former governor of Florida last month advocated for gradually raising the retirement age. Florida Senator Marco Ruibio, a candidate, has called for the same in the past. 
Before it's here, it's on the Bloomberg Terminal.
LEARN MORE