Jeb Bush Pushes Faith to the Forefront
The Republican is making faith central to his pitch to the party's primary voters, defending Christianity as a powerful force for human progress.
by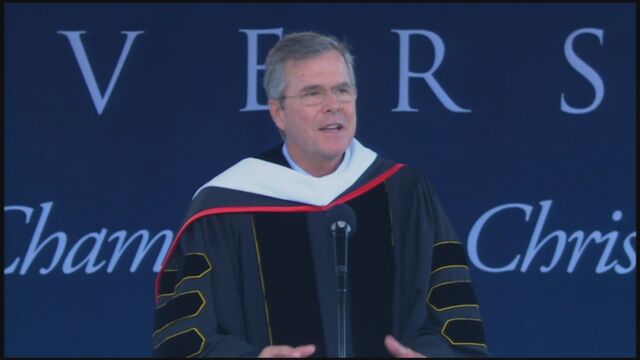 Michael McCarron still vividly recalls seeing then-Florida Governor Jeb Bush more than a dozen years ago, sitting alone inside the chapel in the state capitol, praying the rosary. It struck McCarron, then the executive director for state Conference of Catholic bishops, as an instructive moment, affirming that the recent convert to Catholicism was more interested in practicing his faith than preaching about it.
"He was never a guy who would wear his faith on his sleeve, like his brother," McCarron said in an interview. "Faith would rarely enter into his conversations with the bishops, which were about human needs. But it was always clear how faith informed his decisions and how he prioritized human dignity."
But now, as Bush prepares to enter the race for the Republican presidential nomination, he's making faith central to his pitch to the party's primary voters, defending Christianity as a powerful force for human progress and weaving religion into the inequality themes of his burgeoning campaign. It's a crucial marker for Bush, who has acknowledged the need to stand apart from his father and brother, both ex-presidents. And whether or not the party's religious conservatives find Bush's faith-based message as compelling as McCarron will help determine his success.
"In works hardly even noticed by the popular culture, so many young Christians today are showing the way—moved not by pity for what is, but by a vision of what can be," Bush said Saturday during a commencement speech at Liberty University, which claims to be the world's largest Christian college. "For all who would serve the poor and homeless, you set the standard with your beliefs that everyone matters, and everyone has the right to rise."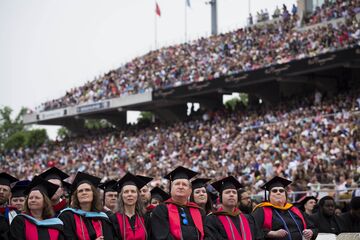 While most of Bush's potential rivals were at the South Carolina Freedom Summit, Bush aimed his speech in Lynchburg, Va., not only at the thousands of graduates and family members in attendance, but also at evangelicals around the country. Voters who described themselves as born-again or evangelical accounted for about one-fourth of the electorate in the 2012 presidential election, but for almost three of every five Iowans who participated in the nation's first Republican presidential nominating contest that year. In South Carolina's Republican primary, evangelicals accounted for 65 percent of the electorate.
"Evangelicals—or at least large group of evangelicals—will probably coalesce around a particular candidate, but I think we're a long way from that happening," said Russell Moore, president of the Southern Baptist Convention's ethics and religious liberty commission, which describes itself as the moral and public-policy agency of the nation's largest Protestant denomination.
"That's going to mean outreach from the campaigns to evangelical leaders and constituencies, and then, in the debates, how candidates articulate their positions," Moore, who has met and prayed with Bush in recent months, said in an interview. "We haven't had candidates extensively outline their positions yet, because everyone has been focused on building the foundation of their campaign apparatus."
For Bush, building that foundation has meant raising tens of millions of dollars, with a handful of public events along the way to introduce himself to more voters, practice his pitches, and sketch out the broad themes for a campaign. In recent weeks, he's been trying to present himself as an electable conservative and highlight his outreach to Hispanic voters, a growing voting bloc that is increasingly siding with Democratic presidential candidates.
He's also burnishing his credentials with social conservatives with a speech to Hispanic evangelicals last month and the commencement on Saturday at the college founded by Reverend Jerry Falwell.
'Subversive Moral Idea'
Bush used the commencement to present Christianity in its best light, as a challenge to all people to treat one another with dignity and respect. "I cannot think of any more subversive moral idea ever loosed on the world than, 'The last shall be first, and the first last," Bush said.
He made the religious case for environmentalism, saying Christians "see in nature and all its creatures designs grander than any of man's own devising," and talked about presenting its ideals with the soft tones of acceptance. "Wherever there is a child waiting to be born, we say choose life, and we say it with love," Bush said to applause. 
He also weighed in on the political battles being fought by the conservative moment, calling political correctness a "game," highlighting his support for religious freedom, and criticizing President Barack Obama's administration for attempting to force businesses to offer employees health insurance that includes contraception coverage.
"When it comes to doing the right and good thing, the Little Sisters of the Poor know better than the regulators at the Department of Health and Human Services," Bush said. "From the standpoint of religious freedom, you might even say it's a choice between the Little Sisters and Big Brother—and I'm going with the Little Sisters."
But while bemoaning a "false narrative that casts religious Americans as intolerant scolds," Bush largely ignored factors that may have contributed to that perception or the increase in the percentage of Americans who say they are unaffiliated with any particular faith today.
Marriage Debate
Similarly, Bush also left out of his speech mention of the debate over gay marriage that has split the social conservative base of the party from much of America. Bush, who once wrote that sodomy shouldn't be given the same constitutional status as race and religion, told the Conservative Political Action Conference earlier this year that he supports traditional marriage. But Bush is under fire from conservative radio talk show hosts in Iowa for hiring top staff who have shown support for gay rights.
"There has been a big red flag raised by a lot of conservatives that I associate with that a couple of staff he's hired that just don't disagree with our worldview, but have been very hostile to our worldview," said Bob Vander Plaats, chief executive of the conservative Iowa Family Leader. "It's a bigger concern than he may realize at this time."
Vander Plaats said he "wants to give him the benefit of the doubt," acknowledging Bush's record as governor was a template for the social conservative movement. "There are a lot of things that I think conservatives could like about Jeb Bush, but there are a lot of hurdles, too," Vander Plaats said.
Bush's Catholicism wouldn't be one of those hurdles, Vander Plaats said. "I just don't see the Iowa caucus-goers saying are you Catholic or are you Presbyterian," he said. "Rick Santorum is a very committed Catholic, and he won the Iowa caucuses last time. Mitt Romney, a very committed Mormon, took second."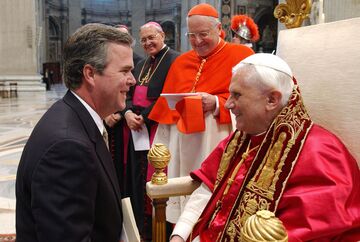 Bush was raised an Episcopalian, and married a Catholic woman in the 1970s. He began attending mass then, and, with his wife, Columba, raised their three children in the Catholic church. Bush himself converted at an Easter Vigil mass in 1995, after more than 20 years of marriage.
"I ran for governor in 1994, after being in business, and I lost. And I decided to convert to the Catholic faith after that experience," Bush told the National Hispanic Christian Leadership Conference in Houston last month. "And it was one of the most important times of my life, the conversion to the faith of my wife."
Bush said the moment was an "important part of my life, both in terms of my personal life and as well in the service to the state of Florida."
Gubernatorial Record
After winning the 1998 governor's race, Bush signed one bill into law that required parental notification for young women seeking abortions. Bush's allies etched a similar measure into the state constitution after the courts deemed the law unconstitutional. Another bill he signed created a "Choose Life" license plate that raised money for groups supporting pregnant women who chose not to have abortions. That was upheld by a judge who said adoption was a secular, not religious issue.
He signed a late-term abortion ban and sought to appoint legal representation for the fetus of a woman who had been raped in a state group home. Bush was blocked both times by the courts.
On Saturday, Planned Parenthood Action Fund sought to highlight that record and its impact on women. "Today, Jeb Bush was hailed as a 'hero' by Jerry Falwell's headquarters and FOX News, but the rest of America got a look at his extreme views that would roll back the rights of women, LGBT people, and others," President Cecile Richards said in a statement.
As governor, Bush also established a pair of faith-based prisons, worked with lawmakers to protect prayers at public school events, provide state vouchers for drug rehabilitation at religiously affiliated centers, and, perhaps most notably, fought unsuccessfully to keep Terri Schiavo connected to feeding tubes.
"Jeb Bush sought to advance conservative positions on religious and moral issues and did so in ways that many governors had not attempted until the 1990s," Matthew Corrigan, a University of North Florida professor, wrote in Conservative Hurricane, a book about Bush. "He also made these efforts in an unyielding fashion despite the fact that politics often requires some type of compromise."
Before it's here, it's on the Bloomberg Terminal.
LEARN MORE