Why Conservatives Suddenly Love a Former Top Obama Adviser
The president's former campaign manager was teased for his support of a conservative candidate abroad during an appearance on Morning Joe.
by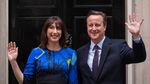 Jim Messina, President Barack Obama's campaign manager in 2012, is taking a victory lap this morning, having helped David Cameron's Conservative Party win a decisive victory in the United Kingdom Thursday night.
While Democratic policies in the U.S. are more closely aligned with the Labour party, which was was being assisted by Obama's former senior advisor David Axelrod, Cameron's party is a less conservative version of the GOP. The irony of the situation hasn't been lost on his rivals back home. Republican National Committee communications director Sean Spicer tweeted:
On MSNBC's Morning Joe, former Republican Representative Joe Scarborough introduced Messina as "a man being called a traitor by liberals world wide and he couldn't care less," calling the win "an extraordinary victory for conservatives." 
Despite recent polls showing Cameron's Tories tied with Ed Miliband's Labour Party, the Tories led by nearly a hundred seats. "I think most public polling is garbage and is wrong," Messina said.  
Bill Kristol, the editor of the conservative Weekly Standard, joked that Messina's next job might be helping a conservative back home. "Now that you've seen the light, now that you understand that conservative governance is better for liberal democracies, surely you'll want to talk to Marco [Rubio] and Scott [Walker] and those guys, right?" Kristol asked. 
Messina is the co-chairman of the pro-Hillary Clinton Priorities USA, the country's largest Democratic super PAC, and is firmly in the Democratic candidate's camp. "I am all Hillary all the time," Messina said. "I'm coming home tomorrow and whatever it's going to take to get Hillary."
Before it's here, it's on the Bloomberg Terminal.
LEARN MORE