The Big Issue Haunting Top Republican Presidential Hopefuls This Weekend
Hillary Clinton's immigration plan has trumped Jeb Bush and Marco Rubio.
by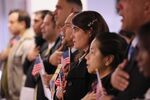 Immigration.
Jeb Bush and Senator Marco Rubio, two top contenders for the Republican presidential nomination, will deliver major speeches on Saturday: Bush at Liberty University in Virginia and Rubio at the Republican Freedom Summit in South Carolina.
Both are expected to make compelling cases for themselves. But don't expect them to emphasize the issue atop the minds of the Hispanic voters who could help elect the country's 45th president: immigration.
One reason: Democratic frontrunner Hillary Clinton put them in a box this week by making an offer to Hispanics that Republicans cannot feasibly match. She will expand President Barack Obama's executive actions to include protections from deportation for parents of undocumented young people who have been given "deferred action."
"This is where I differ from everyone on the Republican side," she told young undocumented immigrants at a roundtable in Las Vegas on Cinco De Mayo.
The two Floridians are the most pro-immigration candidates in the Republican presidential field. Each offers a unique appeal to Latinos. In Puerto Rico recently, Bush hailed "the power of the immigrant experience," adding: "I live it each and every day." The reference was to his Mexican-born wife, Columba, and their bicultural children. Rubio too has a compelling personal story as the son of Cuban immigrants. Both have championed legislative reforms to help undocumented immigrants gain legal status.
But neither can match Clinton's offer. Bush, Rubio and just about all Republicans have said Obama's executive actions to protect more than 4 million people from deportation exceed his presidential powers and must be reversed. The president's moves (which have been halted by a federal judge as a court battle plays out) ignited the fury of conservative voters, whom no candidate for the Republican presidential nomination can afford to alienate.  
Another top-tier Republican contender, Wisconsin Governor Scott Walker, was quick to channel the anxieties of that conservative base. "Hillary Clinton's full embrace of amnesty is unfair to hardworking Americans and all immigrants who followed the law," said the prospective candidate, who is against legalizing unauthorized immigrants.
Clinton's proposal goes even further than the Obama administration did in November. The White House would protect two categories of undocumented persons from deportation: 1) the undocumented parents of children who were born in the United States and who are, therefore, Americans and 2) young people who were brought here illegally as children by their parents. Under Obama's order, the parents who brought their children here illegally could still be subject to deportation. Clinton, however, would grant them leniency. 
The political implications of Clinton's move are obvious. Hispanics, the country's fastest-growing demographic, provide critical votes in swing states like Florida, Colorado, New Mexico and Nevada. And they support Obama's executive actions by large margins—64 percent in a Gallup survey in December; 89 percent in a Presente poll in November—because the initiatives delivered results where Congress has repeatedly failed to.
That might explain why Bush and Rubio haven't said a word about the issue. There's no easy way to discuss it without alienating either the Republican voters they need in the primary or the Hispanic voters they'll likely need in the general election.
Before it's here, it's on the Bloomberg Terminal.
LEARN MORE