Struggling Christie Seeks Salvation on the Road in New Hampshire
Terrence Dopp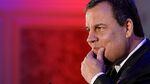 During a two-day sweep through New Hampshire, Chris Christie was a man on a mission. With events as little as an hour apart, New Jersey's governor hopscotched across the Granite State, joking at restaurants and shops and downplaying the home-state traffic scandal that dogs him.
Christie, a potential Republican presidential candidate equally capable of bombast and charm, deployed the latter: apologizing for interrupting diners bent over plates of eggs and home fries, introducing himself as "Chris," telling of a hotel concierge who mistook his wife for an aide.
Early-voting New Hampshire has become Christie's second home, he says, as he struggles for relevance in a crowded Republican field for 2016. If he has any shot, he has to turn it around in the first primary state, where his approval fell to 3 percent in a poll this week among likely voters, from 9 percent in February. The New Hampshire trip was Christie's fourth in five months. The governor said he'll be back next week and the one after.
"He's someone that, if you look at his political strengths, is well-suited to New Hampshire," said Brian Jones, a consultant for Christie's political-action committee who worked on the campaigns of John McCain and Mitt Romney. "New Hampshire voters expect you to go up and spend time with them, speak frankly to them, and hopefully enjoy the process."
On Thursday, Christie toured a drug-treatment center in Manchester and attended a fundraiser for the Cheshire County Republican Committee. On Friday, he stopped at Joey's Diner in Amherst before a roundtable discussion hosted by a former state senator. He was scheduled to hold a town hall at Fury's Publick House in Dover, where appetizers on the menu include Bucket O'Bacon and Beer Battered Fried Pickles.
Casual Scene
Christie, whose response to Hurricane Sandy in 2012 helped him win record approval and a second term, has seen those ratings drop to lows amid a sluggish recovery and a controversy over intentional lane closings at the George Washington Bridge.
Though Christie has denied knowledge, the affair resurfaced this month with federal indictments of three former allies. One pleaded guilty, saying the plot was designed to punish a Democratic mayor who didn't endorse the governor's re-election.
After the drug treatment-center tour, a reporter asked Christie whether voters could trust him in the White House given the indictments. No leader can prevent all scandals involving those underneath him, Christie said. The true test, he said, is a leader's reaction to such matters.
Vicki Jepson, a former New Jersey resident who's called New Hampshire home for 24 years, was among more than four dozen people who met Christie at One Mile West, a wood-paneled pub in Sunapee with animal heads mounted on the walls. She wrote a $200 check to his Leadership Matters for America PAC.
If she were sure he was running, the donation would have been bigger. Jepson said the party has chosen "war heroes" and should consider someone younger and dynamic like Christie, 52.
"He's doing the best he can down there with what he has to work with," she said. "He's very relevant, and I hope he runs."
Yet in a WMUR Granite State poll released May 6, Christie had the second-highest unfavorable ratings, with 40 percent. He placed 10th, tied with former Arkansas Governor Mike Huckabee, in the Republican race.
For Barbara Rowland, 76, of Pepperell, Massachusetts, Christie's outbursts, such as telling a Sandy victim to "sit down and shut up" disqualify him. She was in a Nashua brewpub Wednesday night during a visit by Ohio Governor John Kasich, another Republican who may run.
Christie "seems to lack emotional control and, man, you can't be like that as president," said Rowland, 76, a retired psychiatrist. "You've got to just stay down the middle."
Steven Smith, who serves in New Hampshire's legislature and on the state Republican committee, said Christie may be able to take heart from McCain's 2008 primary victory.
"The press and all the smart people in my party had written him off," Smith, 50, said. "He was in debt and he had to take a mortgage out on his house to pay for the campaign. That happened in June and he went on to win."
Before it's here, it's on the Bloomberg Terminal.
LEARN MORE