Obama Touts Community College Value on Unfriendly Dakotas Turf
Margaret Talev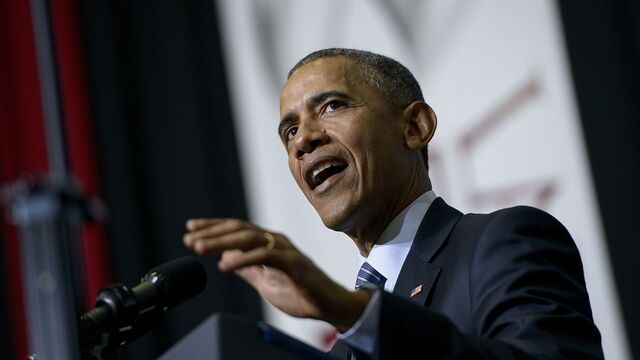 President Barack Obama checked off his pledge to visit all 50 states while in office with a commencement address at a South Dakota community college that he called a model for preparing young Americans for the modern workforce.
"I believe that in a fast-paced, hyper-connected, constantly changing world, there are few institutions that are more important to America's economic future than community colleges," Obama told students at nationally-recognized Lake Area Technical Institute in Watertown, South Dakota. "We should have faith in people like you. We should invest in people like you. Our budgets should reflect that we care about you."
He repeated a proposal to make community college free by raising taxes on the wealthy.
The college visit meshed with themes of job creation Obama is touting as he tries to get more Democrats on board with his push for fast-track negotiating authority for a free-trade agreement with Asia-Pacific nations. The Watertown stop also highlights Obama's own call for legislation making two years of community college free, and his advocacy for student loan protections.
Earlier on Friday, Obama pushed for the 12-nation trade deal, called the Trans-Pacific Partnership, at Nike Inc. headquarters in Beaverton, Oregon.
Deeper Red
There's good reason South Dakota, the nation's 46th least-populous state, was the last one Obama visited. Its electoral college votes haven't gone to a Democratic presidential candidate since 1964.
"We weren't worried; we knew he was saving the best for last," South Dakota's Republican governor, Dennis Daugaard, said in remarks introducing Obama.
Obama agreed -- "I have now been to all 50 states as president and I was saving the best for last," he told the school's students.
"To the other 49, I hope you take no offense."
Since Obama became president in 2009, South Dakota has become even deeper red.
Following last year's midterm elections, the state Democratic Party is in its worst position since 1962. The state has an all-Republican congressional delegation, the GOP took all 13 statewide political offices, and Republicans won 58 of 60 competitive state House races. Daugaard beat his Democratic opponent by 45 percentage points.
Obama was met on the tarmac of Watertown Regional Airport by Daugaard, his wife and all three of the state's members of Congress, plus Watertown's mayor, Steve Thorson.
Before it's here, it's on the Bloomberg Terminal.
LEARN MORE