Mike Huckabee Wants to Reconquer Iowa, One Bass Solo and Pizza Ranch at a Time
The 2008 caucus winner reintroduces himself to the voters who made him.
by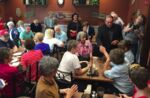 There was no mega-rally for Mike Huckabee, no overflow room, no line of cars that bent around the highway. There was just the dining room of a Pizza Ranch in Cedar Rapids, Iowa — "the first of many Pizza Ranches," said the former Arkansas governor's wife, Janet. As a hundred-odd potential voters tucked into mac-and-cheese pizza and fried chicken, Huckabee shook every one of their hands. He waited for a Christian rock soundtrack to stop blasting through the PA system, and he talked about the best time of his life.
"Eight years ago at this point," he said, "I'd come to a Pizza Ranch, we'd buy one large cheese pizza, and we'd feed everybody there and have leftovers."
He sounded downright cheerful about something that strongly resembled a setback. In 2008, the underfunded Huckabee blew past Mitt Romney to win the Iowa caucuses. His 40,841 votes set a caucus records. Now Huckabee returns to the campaign trail personally better off, but politically less so. The man who, as he took pains to remind the diners here, "grew up poor," in Hope, Arkansas, has since his last run for office hosted a radio show, and a Fox News talk show, published six books (one of which was being clutched by a woman at Pizza Ranch who forgot to bring it to one of Huckabee's many Iowa book signings) and built a dream home in Florida.
Yet here he is again, trying to win back a state that seemed to have moved on. In Iowa polling, Huckabee trails three men who only won statewide office in the Obama era -- Scott Walker, Rand Paul, Marco Rubio. He is functionally tied with Texas Senator Ted Cruz, who won his first elected office just 30 months ago, and with Dr. Ben Carson, who never ran for anything before launching a presidential bid this week. Though personally wealthier, Huckabee is trying to sell a populist message. Though his last campaign foundered for a lack of cash, he's poking his thumb in the eyes of the very "donor class" who might be in a position to fund him. Huckabee insists he's going to take the shoe-leather approach to campaigning.
"I'll visit all 99 counties, just like I did before," said Huckabee. "I presume nothing."
At least one of the people who heard this, 70-year old retiree Steve Patterson, had seen Carson in Cedar Rapids just 24 hours earlier. The surprise icon of the evangelical set — a constituency that has in the past belonged to Huckabee, a Baptist minister by training — drew more than 300 people to a Marriott Ballroom, a crowd three times the size of Huckabee's. Lucky for Huckabee, Patterson was unimpressed.
"I told him that Iowa led the nation in wind power," said Patterson, who had voted for President Obama but was open to the right Republican. "He said, yeah, that's what the government tells me. His whole thing seemed to be anti-government."
Huckabee is different. Or is he? The prevailing media narrative of his comeback bid has been "no more Mr. Nice Guy," an insistence that Huckabee has been hardened by years in the culture war salt mines of Fox News. Yet in Iowa, where no one doubts his social conservatism, Huckabee was unfailingly affable. At a Wednesday visit to a factory in Oskaloosa, he shook every employee's hand and joked about giving them the day off. Later, at a rally inside a restored Urbandale barn, Huckabee played bass with a band and did not leave until taking a picture with everyone who wanted one. (The only nod to his post-2008 wealth and fame was in a anecdote about the hard-working immigrant who had chauffeured him to an episode of Real Time with Bill Maher.)
Easy charm
As he roamed the Pizza Ranch, Huckabee attempted to joke and bond with every human being in his field of vision. It was a master class in retail politicking. One man started talking about hunting, so Huckabee whipped out his iPhone and showed off the spoils of a turkey shoot. "Four turkeys!" said Huckabee. "I got three of 'em!" 
Just seconds later, a voter wanted a more serious conversation about Huckabee's visits to Nazi death camp. The governor obliged, all of the frivolity of the turkey shoot talk vanishing like a magician's assistant. "If you can stand in Auschwitz and Birkenau," said Huckabee, "and not have your life changed -- there's just no way to describe it."
Huckabee's easy charm guided him through not one but two surprise interactions with voters who wanted to challenge his climate change stance. He told Steve Patterson that scientists had been wrong before, as in a 1975 Newsweek story that predicted "global cooling" and surmised that "we'd all be popsicles by 1980." He told Scott McNabb, a professor emeritus at the nearby University of Iowa, the same thing. 
"Within the scientific community, there is sort of a herd mindset," he argued. But there are very credible scientists who have not been able to establish this. When I was in college, people were talking about global cooling."
When he was a TV host, debates like these could occupy an hour of Huckabee's airtime. As a candidate, Huckabee is attempting to bring the conversation around to economic populism. At every stop of his tour, he made the standard Republican attack on Washington, but added a twist. Other Republicans would cut away at "entitlements." He would not.
"I remember the first time I got a paycheck, at age 14," said Huckabee in Urbandale. "I had a job at the radio station. I got paid -- a buck-twenty-five an hour, minimum wage. I was worth every bit of it, too. A buck-twenty-five an hour, however many hours I worked, so I added it up -- and then I got the check, and there was something called FIC taken out."
Huckabee's crowd, a mixture of young parents and head-nodding retirees, laughed as he re-enacted the conversation with his boss over FICA, the Federal Insurance Contributions Act, a.k.a. the Social Security tax.
"I said, 'Oh my gosh, I'm 14 years old, you really think I need that?' He said, 'Well, someday, someday it will be there for you.' Folks, I'm a whole lot closer to that someday than I was! It is a foolish thing for the government to involuntarily confiscate money from your pockets and paychecks for 50 years, and then suddenly tell you, oh, we were just kidding." It was a sidelong reference to some of his Republican rivals, who are calling for major cuts in the Social Security program. 
In Urbandale, it was hard to find a voter -- a Republican voter -- who disagreed. It was easier to find people who'd gone all out for him 2008, and wanted another chance to get him through the caucuses. He was attacking the faceless horror of Washington, not any one person.
"You reap what you sow," said Amanda Aswan, a 34-year old nurse with seven children. "I appreciate that he can run and win without badmouthing anybody."
Attacking the 'donor class'
Yet the faithful crowd in Urbandale did not quite fill the barn. Speakers that had been set outside, in case of overflow, ended up serving the people who wanted to get some air after eating a free pulled pork sandwich. In Cedar Rapids, Huckabee spent 45 minutes talking and taking questions, following every joke with a reminder that the real enemy was in the Capitol. "There is power, money and influence that exists between what I sometimes call the Washington-to-Wall Street axis of power," he said, "a corridor of power in which the donor class feeds the political class which in turn dances to the tune of the donor class and each are doing the other a favor."
In a short conversation with reporters, Huckabee argued that he had learned from 2008 and would have stronger, earlier fundraising for this year's caucuses. He insisted that a populist campaign -- running exactly against the issues of the donors who could give more than ever -- would not hinder this.
"I'm not against wealthy people," said Huckabee. "I'm not against capitalism. I'm a capitalist -- capital 'c' Capitalist. I'm not a crony capitalist. I don't think people ought to get their wealth from the favors they've gotten from Washington. I think they ought to get it the old fashioned way, create a product, a good, a service, that is so popular that people want it. I look at companies like Apple Computers. Apple Computers didn't get where it is by demanding a government favor. They developed a product that people wanted."
That still pits Huckabee against people who had the most money to fling into campaigns. When pressed on the money of the Koch brothers, libertarians who have used a manufacturing fortune to attack the same welfare state Huckabee was defending, he countered that he'd "never said an unkind word" about them. 
"If people are able to generate great wealth, good for them," he said. "Many times, those are the people who give incredibly to charitable organizations, and they give to foundations, and they give to medical advances and research. I'm not against wealth. The more we can have of it, the better -- as long as we're good stewards of it."
Even when he was starting an argument, Huckabee was trying to be as un-argumentative as possible. And he was careful about how he discussed social issues. At none of his Iowa stops did the former pastor and Christian broader discuss gay rights or gay marriage. He discussed none of the natural, Biblical health remedies that he'd pitched since becoming a TV personality. In Cedar Rapids, he cheerfully shut down a questioner who insisted that President Obama was Kenyan-born -- a position Huckabee had once sort of indulged. 
Moments later, he finally discussed a social issue in an unexpected way. Huckabee called on Scott McNabb, knowing the professor would ask him something about climate change. When McNabb asked what it would take for Huckabee to accept the judgment of scientists, he pivoted, and talked about how defenders of legal abortion seemed to dismiss science every day.
"It was only in recent years when we began to see the map of the genome, and we began to see DNA, that something very special happens at the moment of conception," said Huckabee. "At that moment, 23 chromosomes from a man and 23 chromosomes from a woman form the unique DNA schedule that becomes the imprint of that person's life from that moment on. When people today want to fight about when life begins, I would say to those on the left, what's the fight? We know when it begins. Biologically, that's when it begins. As the left loves to say, the science is settled. So why are we continuing to take the lives of unborn children?"
McNabb took notes on the margins of the New York Times. Afterward, as Huckabee and his wife posed the babies some parents had brought with them, McNabb clipped and saved that day's column by Gail Collins. In it, she insisted that Huckabee had evolved from a "likable conservative candidate for president in 2008 to [a] rather mean right-winger." The truth was more complicated. Huckabee will travel 90-plus more counties to prove that.
Before it's here, it's on the Bloomberg Terminal.
LEARN MORE