John Kasich Meets With Political Heavyweights as He Considers Presidential Run
With the decision this week by Michigan Governor Rick Snyder not to run, there is more room for the Ohio governor to raise money in the Midwest.
by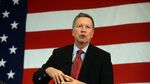 Ohio Governor John Kasich, continuing serious consideration of entering the large and unsettled Republican presidential field, has convened another in a series of private meetings in Columbus Friday to explore a campaign. 
Friday's sessions, like previous ones that have been held in the state capital over the last several months, includes a combination of some of Kasich's core advisers and supporters with more national experience.
According to three people familiar with the meetings, attendees included former New Hampshire Senator John Sununu, former Pennsylvania Congressman Bob Walker, long-time New Hampshire lobbyist Bruce Berke, and former John McCain backer and heavyweight bundler Greg Wendt, a California investor.
Participants from Kasich's Columbus team included chief of staff Beth Hansen and senior adviser Jai Chabria, who has accompanied Kasich on many of his presidential exploratory trips around the country.
Kasich has been saying privately to advisers pretty much what he has said in a series of interviews and public appearances of late—that he is inclined to enter the race if he determines there is enough financial support to make him a viable candidate.
With the decision this week by Michigan Governor Rick Snyder not to run, there is more room for Kasich to raise money in the Midwest, including in Snyder's state, and to present himself as a sitting governor with recent accomplishments and a record as a unifier. Kasich and his advisers believe that those traits, along with national security experience from his days as a congressman, give him a package unmatched by other prospects.
With recent appearances in New Hampshire, South Carolina, and other states, as well as frequent travel to meet with political and media elites in Washington, D.C., Kasich has been keeping up a more active presidential candidate schedule over the last several weeks than even some of the officially declared candidates in the race. He's got several upcoming trips that are geared towards a run for the White House, including one to California and another to Utah in mid-June for Mitt Romney's E2 meeting that will bring many of the party's most prolific donors together with Kasich and several other leading presidential prospects.
Before it's here, it's on the Bloomberg Terminal.
LEARN MORE