Hillary Clinton the Populist Begins Courting the Plutocrats
Clinton can't change the system unless she wins the election, and the only way to win the election is with the help of deep-pocketed allies.
by and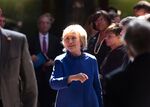 One of Hillary Clinton's biggest applause lines in her early days on the campaign trail has come when she talks about getting big money out of politics—even when she's talking to the big-money donors.
It's one of the paradoxes of a campaign that regularly employs populist rhetoric while courting plutocrats. Clinton can't change the system unless she wins the election, a campaign official argued, and the only way to win the election is with the help of deep-pocketed allies. 
Clinton's message on the campaign trail, where she's focused on casting herself as a "champion" for "everyday Americans" could get complicated by her courting of the one percent. That tension ramped up this week as Clinton arrived on the West Coast for a series of fundraisers for her campaign committee (to which individual donors can legally give a total of $5,400)—as well as some smaller meetings in Los Angeles and San Francisco with potential donors to Priorities USA Action, the Democratic super-PAC that can collect checks in unlimited amounts on her behalf.
Clinton put off fundraising for the first several weeks of the campaign in favor of living room and kaffeeklatsch politicking. Now, she's schmoozing with some of her party's highest rollers while some in her party are pushing her to take a more militant tone on behalf of the have-nots.  Clinton's one-time Senate campaign manager, New York City Mayor Bill de Blasio, will be in Washington on Tuesday to unveil a liberal campaign manifesto with Senator Elizabeth Warren.  Clinton has moved aggressively to preempt attacks from the left.
"Americans have fought their way back from tough economic times. But the deck is still stacked in favor of those at the top," she said in her campaign announcement video. She has subsequently used similar language in nearly all her public appearances. "Everyday Americans need a champion, and I want to be that champion."
Those hundreds of millions of Americans would never be able to afford cutting $2,700 from their budgets to pay for a ticket to a Clinton fundraiser like the ones held this week at glitzy West Coast homes, let alone to write a massive check to Priorities. The limousine liberals who support Clinton recognize the hypocrisy but agree with her campaign's assessment that it's the only approach to take, at least in 2016.
"The system for funding our elections is completely broken, thanks to the Supreme Court's Citizens United decision," said Andy Spahn, the political-giving consultant whose office is on the DreamWorks backlot in Universal City and whose top clients are the studio's three founders—Steven Spielberg, Jeffrey Katzenberg and David Geffen. "The best chance we have to right the ship is to elect Hillary Clinton our next president. If that requires us to raise large sums from the one percent, then so be it."
But with her potential Republican rivals—most notably Jeb Bush via his super-PAC, Right to Rise—compiling big warchests, Clinton and her team have decided it's time to get serious about fundraising. 
The early outreach by Clinton and campaign chairman John Podesta to potential Priorities donors is the clearest signal yet that the group is a smart place for the left-leaning wealthy to park their cash. Last week, the involvement of Clinton's 2008 political director, Guy Cecil, solidified. In London this week, Cecil hasn't formally started his work yet, but he's expected to be key strategic voice and a reassurance that Hillaryworld is all on the same page, even without the formal coordination that is forbidden by law.
Michael Vachon, an aide to George Soros, said he's been fielding calls on the billionaire's behalf from Priorities aides since Clinton launched her campaign last month. Soros, who gave $1 million to Priorities in the 2012 cycle, has not yet made a financial commitment, Vachon said.
Former Clinton White House adviser Paul Begala, who was involved with Priorities in 2012, will continue to fundraise for the group, as will 2008 Clinton national finance director Jonathan Mantz, said a source familiar with the group's workings. Others courting checks include two Obama alumni—executive director Buffy Wicks and senior adviser Sean Sweeney—plus finance director Diana Rogalle.
Clinton and Wicks met with fewer than a handful of donors Wednesday in San Francisco, and the candidate also met with a small group on Thursday in Los Angeles, according to a person with knowledge of the meetings.  Although Clinton is legally barred from requesting more money than her campaign committee is permitted to accept, the law barring candidate coordination with super PACs is riddled with loopholes that presidential candidates, including President Barack Obama, have become adept at exploiting to give big donors  face time.
The super-PAC already has "a number of" seven-figure checks already in the bank, the person, who wished to remain anonymous, added. Another worker who helped corral Priorities donors in 2012 said to expect to see a strong set of initial contributions disclosed by the group after the current quarter ends.
Clinton has floated a low-ball goal of raising $100 million for her campaign to spend in the primaries, and the energy from California donors suggests she's well on her way.
On Thursday alone, the campaign took in at least $2.2 million as more than 800 people wrote primary-maximum checks of $2,700—or raised at least 10 times that, according to a person with knowledge of the events' planning. The source said the events could have collected more if the homes where they were hosted had greater capacity.
The same was true in San Francisco. Investor and climate advocate Tom Steyer hosted one of Clinton's three fundraisers there on Wednesday. The demand for the 105-seat event was overwhelming. "We just sort of put the word out and it sold out in about 24 hours," said Democratic consultant Chris Lehane, who works for Steyer, as well as some Hollywood political players. She'll be back for more fundraisers in the Bay Area Friday after a day-trip to tap donors in Los Angeles. 
Clinton appeared Thursday at three formal fundraisers in Los Angeles: a women's breakfast, a midday gathering hosted by TV producer Steven Bochco and California Senator Barbara Boxer, and an evening gathering co-hosted by two longtime Clintonites and their wives—Power Rangers creator Haim Saban and entertainment executive Casey Wasserman.
That last event was held at sunset on the lawn of Saban's North Beverly Park estate and drew a crowd of more than 450. 
Hollywood was divided during the 2008 primaries, as Spielberg, Katzenberg and Geffen, sided with Obama, while others went for Clinton. This time, though, with Clinton an even more dominant frontrunner than she was at the start of the 2008 race, "kumbaya is breaking out in L.A. and San Francisco and all these other cities," Lehane said. In producers' parlance, he added, "she's the only green-light actor in this race."
All of the Californians who attended Clinton's campaign fundraisers could become donors to the super-PAC she's designated as her own. Priorities was the third-biggest super-PAC in the 2012 elections, according to the Center for Responsive Politics. It spent $65 million to boost Obama and attack Republican candidate Mitt Romney—less than half the budget of the chief super-PAC giving Romney an assist. Democrats hope that Clinton's early and unambiguous support of the group will help it raise $200 million or more—peanuts when compared to what Republican groups have already said they will spend.
In 2012, Priorities had a core of 29 seven-figure donors—a mix of individuals and unions. Its first donor was Katzenberg who gave $2 million in seed money back in 2011. Spielberg chipped in $1 million, as did actor Morgan Freeman and comedian Bill Maher, who has since publicly signaled that his big check—aimed at ultimately getting big money out of politics—was likely a one-shot deal. 
The top Priorities donor in 2012 was Chicago media executive Fred Eychaner, who gave $4.5 million in support of Obama's re-election effort. But he's an even bigger fan of the Clintons, and has to date given between $10 million and $25 million to the Clinton Foundation.
From the Bay Area, Qualcomm co-founder Irwin Jacobs gave $2 million and Zynga co-founder Mark Pincus gave $1 million. With so much liquidity in Silicon Valley, Democrats hope to see many more big names from tech step up, potentially including Facebook's Sheryl Sandberg and Yahoo's Marissa Mayer.
((Corrects misspelling of de Blasio's name.))
Before it's here, it's on the Bloomberg Terminal.
LEARN MORE